Daniel Mulhall: Irish ambassador to Britain on Brexit, Stormont and solace in poetry
EXCLUSIVE: Ireland's top diplomat in Britain says most Irish people were 'bewildered and confused' by decision to leave EU.
Start the day in a positive frame of mind. This is the mantra fully embraced by Daniel Mulhall, Ireland's top diplomat in Britain. Every morning for the past few years, the ambassador rolls out of bed, thumbs through his anthologies of Irish poetry and fires out an inspiring missive to his Twitter followers.
"Many people have said to me: 'That is my favourite tweet of the day when I see your poetry' as they are travelling on the Tube into work. When they read it, they get a lift and so for me it is a good way to start the day by reading something that doesn't have to do with Brexit or the troubles of the world."
You'd forgive Ambassador Mulhall, a historian by training and an avid man of letters, for seeking solace in literature right now. The day before his interview with IBTimes UK at the Irish embassy in London, he was in Dublin for meetings over the UK's decision to leave the EU.
Without having a say in the vote, Ireland faces an uncertain economic future as its biggest trading partner begins tortuous negotiations over Brexit. As a member of the EU and the only country to share a land border with the UK, an already complicated economic and political situation is fraught with difficulty.
Then, earlier in the week, Sinn Fein's Martin McGuinness triggered the biggest political crisis in Northern Ireland since the 1998 Good Friday Agreement by resigning as Deputy First Minister. The move, in response to a financial scandal involving Arlene Foster's Democratic Unionist Party, couldn't have come at a worse time.
Rumours have swirled – denied by the British government – that the political impasse in Northern Ireland could waylay the move to trigger Article 50, signalling the UK's intention to leave the EU.
These little local issues are, of course, set against the backdrop of the incoming leader of the free world taking to Twitter to decry "FAKE NEWS" organisations.
If the ambassador is feeling the strain, he certainly doesn't show it. One of his staff explains before we meet him in his office that his work-rate and optimism is "astounding". Scrolling through his Twitter feed is testament to that. Meeting with local bodies representing the Irish community in Britain is a role the ambassador clearly relishes.
A series of events last year to mark the 100th anniversary of the Easter Rising was sensitively handled. Sometimes it is easy to forget how hundreds of years of enmity between both countries have now been replaced with strong, economic and social ties (which only lapse when Ireland and England play each other at rugby).
"The aim of my efforts this past year was to develop a more nuanced understanding of Ireland's story," Ambassador Mulhall explains. "Because Ireland's story a hundred years ago was also part of the wider British story and I think we managed to have a commemoration of that tremendous year in Irish history that was both inclusive, respectful and done in a sensitive way. And nobody during the year took offence. People in Ireland re-engaged with our history in a very positive way and it's a good basis for the future development of understanding on these islands."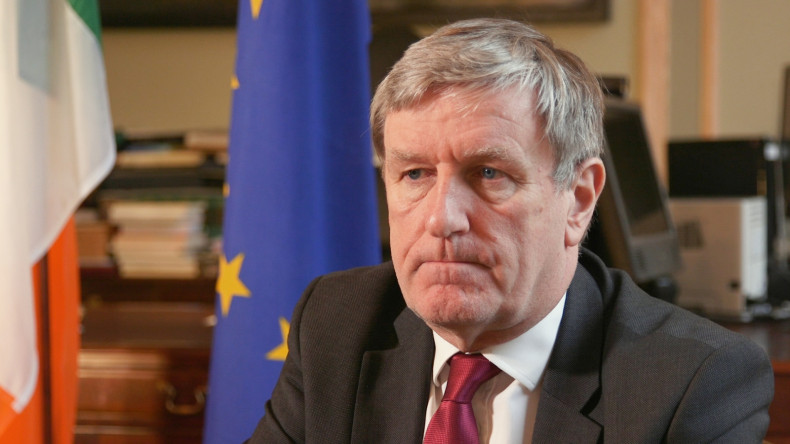 You do get the feeling Brexit is what occupies the ambassador's waking thoughts, and perhaps some of his dreams too. With a career in diplomatic service stretching back nearly 40 years, he has had to call on his reserves of experience gained in missions from Malaysia to Berlin, and from India to the EU.
He maintains that the majority of Irish people were left "bewildered and confused" by the referendum, and he accepts that Ireland's post-Brexit relationship with Britain will face new challenges as a result.
"Ireland is committed to continued membership of the European Union. We want the European Union to flourish and prosper and meet the challenges of today and tomorrow. At the same time – and there's no contradiction between these two statements – we want to continue to have as close as possible a relationship with our neighbours in the UK.
"That relationship will be more difficult to manage when the UK is outside the European Union, but it's not an impossible task. It can be managed and will be managed in my view so it's not a question of either/or. It's a question of minimising the negative impact on Ireland of the UK's departure from the European Union including by preserving as best we can the very positive relationship that has developed between the UK and Ireland in recent decades.
"It will be a strange experience for Ireland to find itself a member of the European Union without its nearest neighbour and that's why we were hoping that the referendum would turn out to have been a remain vote; it didn't work out that way and therefore, we have to accept of course – and we do accept – that this is a decision that has been made by the British people and we have to make the best of it and we have to try to minimise the negative impact for Ireland, for north-south relations in Ireland and for Irish-UK relations."
The ambassador studiously avoids any political commentary on what is happening in Stormont, save to say "the only way to resolve a political impasse is to find solutions. And those solutions can only be found by talking and doing things that are conducive to agreement".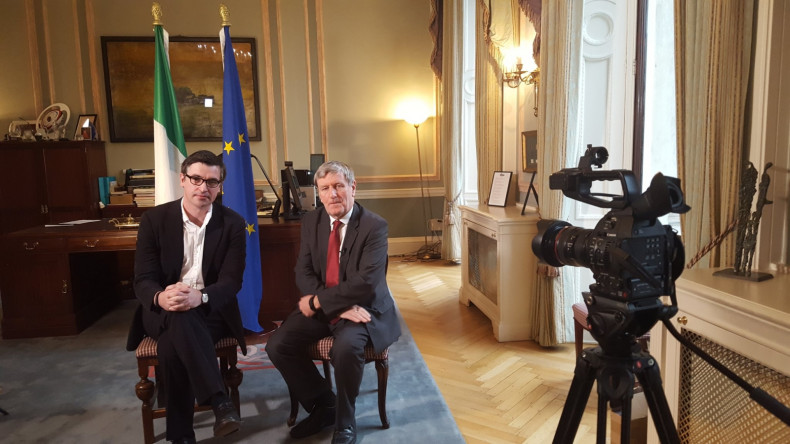 Asked how the impasse could impact on Brexit, he responds: "The Northern Ireland peace process is an extraordinary positive achievement for the people and the governments of these islands and we should be completely conscious of that enormous achievement.
"If you look back at the progress that's been made since the Good Friday Agreement in 1998, Northern Ireland has been transformed, north-south relations have been improved beyond recognition and indeed British-Irish relations have also improved enormously. We've had the two State visits in recent years that have been a symbolic expression of a new moment, a new era in Irish UK relations and whatever happens in Northern Ireland or in relation to Brexit, we've got to make sure that that new climate of friendship and co-operation between our two countries continues to be a reality in the future.
"The Irish government is co-guarantor of the Good Friday Agreement and the process that has stemmed from that agreement. It has a huge commitment to ensuring that process is steered in a positive direction."
Ukip's Nigel Farage recently told Irish radio that 'Irexit' could be next on the cards if the UK secured a good deal. The country's foreign minister Charlie Flanagan described the intention as 'fanciful'. Suffice to say Ambassador Mulhall chooses more diplomatic language.
"Anyone is entitled to an opinion but... the facts are that support for EU membership is in the 80% area in Ireland. In fact, it's gone up in recent times."
His tweets of Irish poetry began in 2015 to mark the 150<sup>th anniversary of WB Yeats' birth. Ireland has a deep pool of wordsmiths so the ambassador has plenty of positive inspiration to choose from to combat what some might say is an abundance of negativity on social media.
Asked whether Irish literature gives him a chance to get away from the cut and thrust of diplomacy, the ambassador does allow himself a smile.
"I am a historian by training but I have always found literature as a seductive avenue into the past," he says with a chuckle.