Martin McGuinness was a controversial figure for many years in Northern Irish politics. Once a senior figure in the IRA at the height of The Troubles, having been a deputy commander of the Irish republican paramilitary group in Londonderry on Bloody Sunday, he was later elected with Sinn Féin to the Northern Ireland Assembly, rising to become deputy first minister.
The man accused of having "blood on his hands" by the relatives of IRA victims has died aged 66 after suffering from amyloidosis, a rare heart condition. Some believed he never fully accounted for his time as a militant, and that he had a hand in the deadly bombings of the 1980s, though he always said he left the IRA in 1974.
Given his history, McGuinness had met a mundane end in Northern Irish politics. He resigned as deputy first minister of the Northern Ireland government in January 2016 in protest at how the Democratic Unionist Party (DUP) — with whom Sinn Féin shared power — handled a renewable energy scheme, with taxpayers set to foot a bill of over £400m (€461m).
DUP First Minister Arlene Foster had refused to step down and allow the Renewable Heat Incentive (RHI), over which she had presided, to be investigated. So McGuinness quit, leaving Northern Ireland's fragile power-sharing deal in doubt.
He had been deputy first minister for around a decade, previously serving as education minister, and had been at the top of Sinn Féin for more than 30 years. In the lead up to the Good Friday Agreement in 1998, McGuinness was the party's chief negotiator with the British government.
His past with the IRA is cloudy, and he did not speak in detail about his involvement. Aged 23, McGuinness was convicted of being a member of the IRA by the Republic of Ireland's Special Criminal Court. He had been taken in after being caught in a car carrying weapons and explosives.
"We have fought against the killing of our people," McGuinness told the court, where he received a six month sentence. "I am a member of Oglaigh nah Eireann ['soldiers of Ireland', a term used by various IRA factions over the years] and very, very proud of it."
The most notable event of his involvement was during Bloody Sunday, in which 13 unarmed protesters, including seven teenagers, were killed by the British Army on 30 January 1972.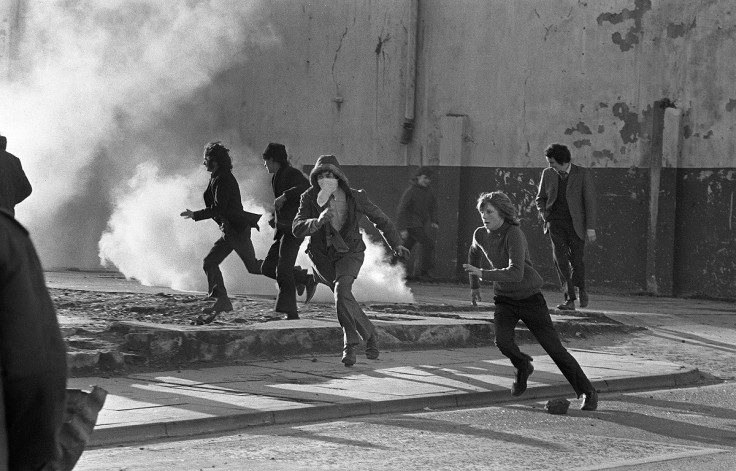 The British Army was heavily criticised by the Saville Inquiry into the day's events, which reported in 2010 after 12 years of taking evidence, leading to then prime minister David Cameron apologising. The report also concluded that McGuinness was "probably armed with a sub-machine gun" that day, though he did not engage in "any activity that provided any of the [British Army] soldiers with any justification for opening fire".
In 2015, McGuinness would not say how many people he had killed while a member of the IRA. "I never talk about shooting anybody," he said during a television interview. "But I do acknowledge that I was a member of the IRA and as a member of the IRA I obviously engaged in fighting back against the British Army."
In a historic moment in Northern Irish politics, the Queen and McGuinness shook hands at the end of her two-day visit in 2012. He wished her "goodbye and God bless" in Irish, while she later said he was "very nice".
"Throughout his life, Martin showed great determination, dignity and humility and it was no different during his short illness," said Gerry Adams, his longtime friend and the leader of Sinn Fein, in tribute to McGuinness. "He was a passionate republican who worked tirelessly for peace and reconciliation and for the reunification of his country."