Easter Rising: Thousands attend centenary parade as political tensions remain high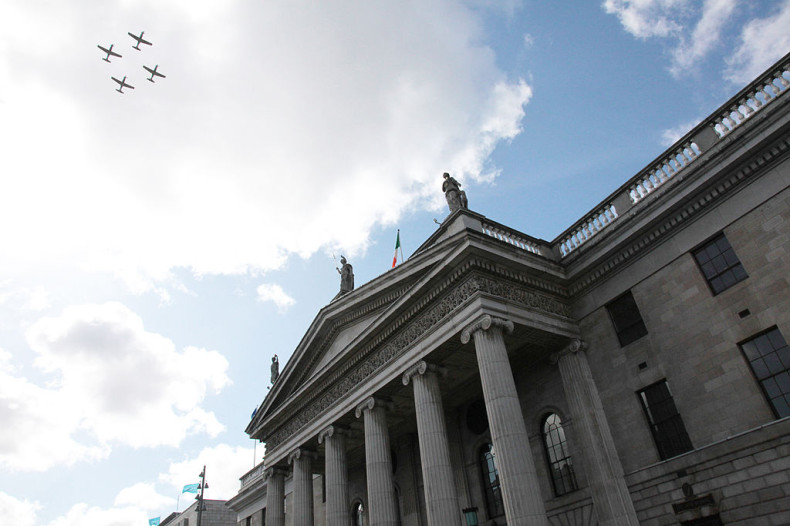 As Ireland marks the centenary of the 1916 Easter Rising against the British state in what is expected to be the largest event in its public history, political tensions remain high on both sides of the border. Officials are estimating that up to 250,000 people will attend the parades taking place in Dublin alone, while a number of regions in Northern Ireland will also mark the event with a number of smaller commemorations.
In what was a seminal moment in the formation of both the Northern Ireland and the Republic, Easter Monday on the 24 April 1916 marked the day when an armed group of republicans stormed Dublin's General Post Office and declared Ireland's independence.
The conflict with the British that followed resulted in over 400 deaths and the execution of the rebel leaders. The death sentences were a turning point in Ireland's history and turned the tide of public opinion against British rule.
Yet while the Irish President, Michael D Higgins, has publicly said he hopes people in Northern Ireland will approach the Easter Rising celebration "generously", the event is also notable for its absence of key political figures from the north – including Northern Ireland First Minister Arlene Foster and Alliance Party leader David Ford who have both slammed the event for glorifying violence. Both figures declined an invitation to attend the event in Dublin.
Irish President Michael D Higgins:
"My great hope, as head of state, is that we will put ourselves into each other's history.
"We must be able to take your version, my version, move into the shoes of the other, and we must be open to changing our versions as new facts, information and analysis become available to us.
"I would hope that people in Northern Ireland will approach these commemorations, and as we commemorate the [Battle of the] Somme, that we'd be able to do so generously."
Foster, who also leads the Democratic Unionist Party (DUP) in Northern Ireland, recently said: "I certainly would not commemorate a violent attack on the United Kingdom. I can understand why those of a republican deposition would want to commemorate that event but I certainly wouldn't want to be associated with it."
Echoing the sentiment, fellow DUP councillor Christopher Stalford asserted: "For our part, no DUP councillor will be attending an event which celebrates an insurrection that was carried out by terrorists who had practically no support for their actions at a time when men from all over Ireland, unionist and nationalist, were fighting and dying alongside each other in the bloody mud of France.
"The events of that failed rebellion should be studied, not celebrated. The legacy of 1916 is a poisonous one as it served to enshrine the notion that armed republican groups, no matter how small or deranged, can kill and maim for Ireland."
Meanwhile, NI justice minister David Ford, who also leads the cross-community Alliance Party in Northern Ireland, turned down an invitation and said that he was "uncomfortable [about] marking the efforts of those who engaged in violence".
"My problem is - the people who murdered Adrian Ismay, the people who murdered David Black, the people who murdered Ronan Kerr, and the people who murdered two Garda (Irish police) officers, would all claim to be the direct inheritors of Easter 1916," he added, referencing a number of recent dissident murders in the North. He added: "I cannot associate myself with that, as minister of justice."
Former Irish prime minister John Bruton also branded the 1916 uprising as "unnecessary", saying it was not a "just war". Ahead of the centenary commemorations, he said: "People are saying 'well, it is not justified to use the gun now – but we are going to justify its being used the past. Now in my view it was wrong on both occasions – 1916 was unnecessary. We had Home Rule already. There was no need for violence. It didn't meet the criteria of a just war."
Yet it's not only political tensions that are escalating as security has been suitably beefed up on both sides of the North/South divide as the threat of paramilitary violence has continued to plague police forces in the past few weeks.
Most recently, a dissident republican bomb attack in Northern Ireland led to the death of prison officer Adrian Ismay, 52, after a booby-trap device detonated under his van in Belfast on 4 March. Adding to rising tensions, during the 1916 Easter Rising 100th anniversary, on 26 March, masked men linked to the Continuity IRA paraded in defiance of the Police Service of Northern Ireland (PSNI) by marching through republican areas of the town of Lurgan in full military regalia.