Ali and Beckham Meet Before the Grand Opening
Muhammad Ali and David Beckham shared the same stage at the Beyond Sport awards on the eve of the Olympic Games in an iconic meeting between two of sports all-time greats
In a preview of Friday's Olympic opening ceremony in London, Muhammad Ali and David Beckham took centre stage at the Beyond Sport awards in a encounter between two of sports' iconic figures.
Behind Ali's frail demeanour remains one of the great champions of sport, while amid Beckham's slick exterior is the world's most superior brand; both represent greatness in their exploits in competition and in the way they have helped bring sport to a wider audience.
While the lucky few that saw the meeting between Ali and Beckham can't have helped but be overwhelmed by two generations of sporting royalty, it was difficult to ignore the deterioration of Ali, who in his own words used to float around his natural habitat, but on this occasion required escorting to the stage accompanied by wife Lonnie.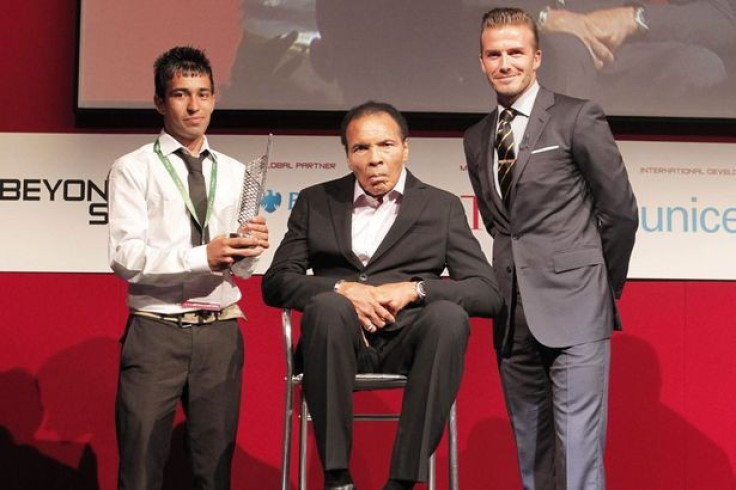 Having been diagnosed with Parkinson's syndrome 28 years ago, Ali is a shadow of the man whose infectious personality and in-ring demeanour made him among the greatest personalities in sport.
The standing ovation that met his arrival and eventual departure reflected the love that even a British crowd have for Ali. How aware he was of the extreme adulation from the spectators is uncertain, but he was able to prise a hand from his side to acknowledge those upstanding few.
From opponents that used to recoil as Ali thrust his right hand in front, the crowd in central London replied with genuine appreciation upon the gesture.
As you would expect, Beckham handled the occasion with unwavering grace. Rarely is he the sideshow in events such as these; a ceremony to commemorate the work of 19 year old Matiullah Haidar who was presented with the sport in the community award, but the England international was the perfect foil to the heavyweight personality alongside him.
The two will be seen again at the Olympic Stadium this Friday, as they both contribute to open London 2012. Both roles are still be revealed, but Ali's performance, coupled with a fall at his home last year, means any repeat of lighting the flame like in Atlanta appears unlikely.
Beckham's specific involvement is also uncertain. Having seen his chances of competing ended by Stuart Pearce's refusal to include him in the Team GB football squad, the Leytonstone-born superstar has revealed he has a role to play in Stratford.
"It is some kind of role in the opening ceremony which I am honoured to be involved in, because I was involved in the start process with this seven years ago," Beckham said. "And for Seb to have kept me involved, I'm very proud of that."
Having already been ruled out of lighting the flame, the 37 year old is likely to have to share the limelight upon London's bow. His moments with Ali will have worked as decent practice.
© Copyright IBTimes 2023. All rights reserved.