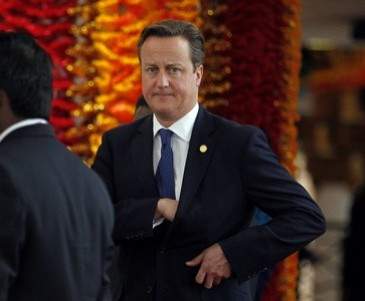 Bitter exchanges erupted in the Commons when David Cameron delivered a statement on his controversial attendance at the Commonwealth summit in Sri Lanka.
In a highly personal attack on the Labour leader, who had urged the Prime Minister to join others and boycott the event, Cameron accused him of not knowing what he was talking about.
"If he knows anything about foreign affairs - and I doubt it, because he barely gets out of Islington..." he said.
Taunting Miliband further, he added that his brother David once said Britain needed a Foreign Secretary who could stop the traffic in Beijing, but the Opposition leader couldn't even get out of Primrose Hill (in the London Borough of Camden).
He was painting one of those Tory pictures of Labour leaders as Islington luvvies - champagne socialists whose contact with the real world is limited to gossip amongst like-minded lefties around the dinner table. He even managed to get Len McClusky into it somehow.
Unsurprisingly, Miliband looked baffled by the assault and its ferocity, but declined to deliver an attack on the residents of Cameron Counrty, otherwise known as the Chipping Norton in Costwolds.
Cameron had made a good fist of explaining why it had been better to engage with Sri Lankan President Mahinda Rajapaksa and "shine the spotlight" on the issue.
"When I met with President Rajapaksa, I pressed for credible, transparent and independent investigations into alleged war crimes. And I made clear to him that if these investigations are not begun properly by March then I will use our position on the UN Human Rights Council, to work with the UN Human Rights Commissioner and call for an international inquiry," he said.
What clearly got under his skin, though, was what he believes was another bout of playing politics by Ed Miliband, who suggested the prime minister's visit had achieved nothing concrete.
Miliband said Rajapaksa should not take over the chairmanship of the Commonwealth and declared: "The legacy of human rights abuses in Sri Lanka is in contradiction to the good traditions of the Commonwealth."
Later, the prime minister's spokesman confirmed that, in his role, Rajapaksa would be attending the Commonwealth games in Scotland next year..
"We will take the same approach as we have towards the Commonwealth summit which is that international events offer the opportunity to shine the spot light ," he said.