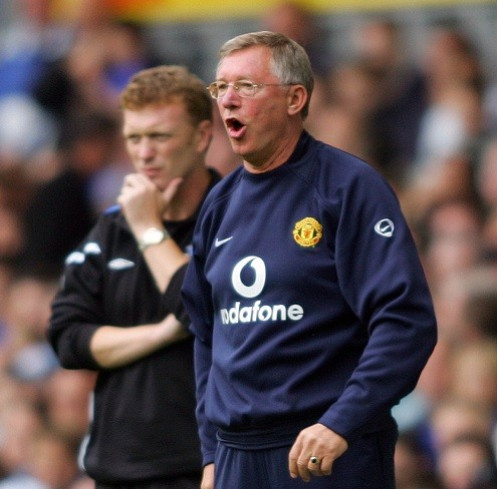 The thought of Sir Alex Ferguson and David Moyes in tandem at Manchester United brings to mind the two Scottish spin doctors in The Thick of It, a pair of foul-mouthed firebrands who bombard hapless civil servants with a crossfire of semi-incomprehensible abuse. United now have their own pugnacious Caledonian mafia in situ; with Moyes prowling the training ground while Ferguson glowers down from on high, one pities any fool who steps out of line at Old Trafford next season.
But fun as it may be to imagine Ferguson and Moyes accosting, say, Nani or Anderson with a double-headed hairdryer at Carrington, the pair's similarities of temperament carry obvious practical benefits for United. Both men have built their managerial strategy on their own insatiable hunger, which gives them the energy to hammer malleable players into teams which project their iron will. The Ferguson formula has brought United two decades of success, and Moyes will be loathe to break from it.
There are other similarities, of course. Both men are renowned for developing young players - Moyes' most famous product, Wayne Rooney, has gone on to become one of Ferguson's biggest stars. The United youth ranks are teeming with talent, with the skills of Adnan Januzaj, Ben Pearson, Andreas Pereira and Mats Moehler Daehli all earning rave reviews. One can be certain that Moyes will nurture and protect these precious prodigies, something which could not be said of his main rival for the United job, Jose Mourinho.
Perhaps most significantly, both Ferguson and his successor possess an uncanny ability to spot a bargain - a vital attribute if United are to continue to compete with the limitless resources of Chelsea and Manchester City. While Ferguson has turned unknowns such as Javier Hernandez and Nemanja Vidic into stars, Moyes has wrung similar value from Nikita Jelavic and Phil Jagielka. As United continue to grapple with their huge debt, the club's bean counters can be sure their precious money won't be wasted by the new arrival.
So it is easy to see why United opted for Moyes. The ideal of continuity, intrinsic to the club's recent dominance, is assured. But there are also major question marks hanging over the new manager - beginning with that precious ability to get bargains in the transfer market.
Moyes' biggest-ever signing is Marouane Fellaini, who cost Everton £15m from Standard Liege five years ago. Fellaini has been a huge success at Everton, and would indeed be an excellent addition to United's squad, but by Old Trafford standards such signings are not enough. United fans will demand that Moyes replenishes his squad with the occasional superstar, and shows that he possesses the confidence, and personality, to entice highly-coveted players. As yet, he has yet to provide any evidence of these qualities.
United fans will also have reservations about Moyes' tactical approach, which can be brutally direct. With Fellaini's aerial power and Leighton Baines's sweet left foot, crosses and set pieces are the cornerstone of Everton's strategy. Yet the Old Trafford crowd, spoilt by Ferguson's cavalier approach, will demand more subtlety, with high balls into the box a last resort rather than a default option. And when United come up against Europe's elite clubs, the tactics on which Moyes has hitherto relied could be cruelly exposed.
Moyes' supporters will argue that, with greater resources, he can now afford to adopt a more fluid and sophisticated game plan. But he will have to adapt his style against levels of pressure he has never before experienced. His 11 years at Everton are considered a success even though he only reached one cup final; at United, he will be expected to win cup finals and league deciders every year, with billions of people watching his every move. Ferguson has mastered the domestic game because big games draw inspiration, rather than inhibition, from his pores. If Moyes wilts under the pressure, he won't last long in the Old Trafford pressure cooker.
This season Moyes has steered Everton to sixth place in the Premier League. Given the club are currently 10th in the league's wages table, such a finish clearly constitutes over-achievement. But United are subject to wholly different levels of interest and expectation. Moyes has done little wrong during his time at Goodison, but equally he has done little to address the questions which every United fan will be asking this afternoon.