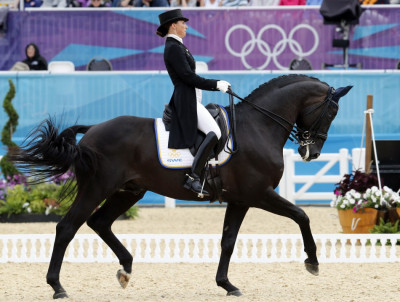 Led by the Olympic record-breaking performance of 27-year-old Charlotte Dujardin, Team GB won its first ever gold medal in Olympic dressage.
Together with Laura Bechtolsheimer, also 27, and experienced Carl Hester, 45, Dujardin broke 24 years of German dominance over the competition: Germany had won the previous seven Olympic editions.
In an event that used to produce stodgy performances by British athletes, Dujardin scored 83.236%, Hester 80.571% and Bechtolsheimer 77.873%.
Brought up in Finmere, Buckinghamshire, Dujardin rode in her first significant event only last year. She used to work as a groom for Hester.
"I wanted the gold medal so badly and I didn't want to mess it up. It is so surreal," she said after winning the gold on Valegro.
"I'm just so lucky to be riding Valegro. He is the horse of a lifetime - he finds it so easy," she said.
London Olympics 2012: Team GB's Winning Horses Uthopia and Valegro to be Sold after Games