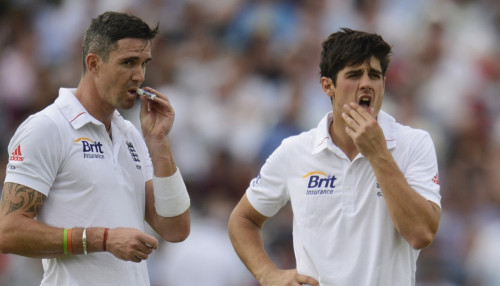 England Test captain Alastair Cook played a significant role in the decision to cancel Kevin Pietersen's central contract, the England and Wales Cricket Board have confirmed.
In a second statement in a week the governing body have attempted to justify the marginalisation of Pietersen, England's highest run scorer in all forms of cricket, but confidentiality agreements have again deterred them from fully detailing the 33 year old's departure from the international scene.
Reports had suggested that Pietersen's personal relationship with a number of players, including Cook and former coach Andy Flower – who resigned at the end of January following England 5-0 Ashes whitewash defeat to Australia - was integral to his future and the ECB have indicated that the England skipper did prove pivotal to the decision.
An ECB statement on Sunday read: "It has been a matter of great frustration that until now the England and Wales Cricket Board has been unable to respond to the unwarranted and unpleasant criticism of England players and the ECB itself, which has provided an unwelcome backdrop to the recent negotiations to release Kevin Pietersen from his central contract.
"The ECB recognises the significant contribution Kevin has made to England teams over the last decade. He has played some of the finest innings ever produced by an England batsman.
"However, the England team needs to rebuild after the whitewash in Australia. To do that we must invest in our captain Alastair Cook and we must support him in creating a culture in which we can be confident he will have the full support of all players, with everyone pulling in the same direction and able to trust each other. It is for those reasons that we have decided to move on without Kevin Pietersen."
The ECB also used the statement as an opportunity to attack criticism of the organisation and of a number of current England players, including Cook and Matt Prior – who has been subject to abuse on Twitter regarding his part in team meetings during the Ashes tour.
"Following the announcement, allegations have been made, some from people outside cricket, which as well as attacking the rationale of the ECB's decision-making, have questioned, without justification, the integrity of the England Team Director and some of England's players," the statement continued.
"Clearly what happens in the dressing room or team meetings should remain in that environment and not be distributed to people not connected with the team. This is a core principle of any sports team, and any such action would constitute a breach of trust and team ethics.
"Whilst respecting that principle, it is important to stress that Andy Flower, Alastair Cook and Matt Prior, who have all been singled out for uninformed and unwarranted criticism, retain the total confidence and respect of all the other members of the Ashes party."