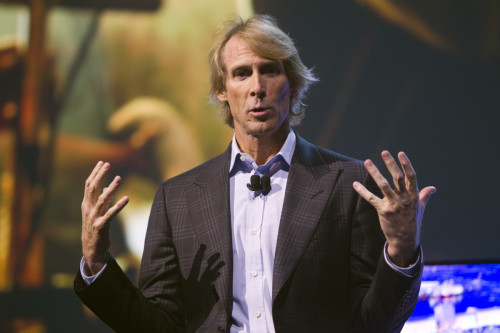 Transformers film director Michael Bay has blamed teleprompter problems for his embarrassing performance during a Samsung keynote, causing him to walk off stage.
Bay, who was invited on stage at the CES technology trade show in Las Vegas to talk about Samsung's new 105in curved Ultra HD television, fluffed his lines, before apologising and leaving, having appeared in front of hundreds of journalists and industry professionals for just over a minute.
Samsung had invited Bay to explain how the television's curved display will improve films, especially in the high-action, explosion-packed productions Bay is famous for.
The director began by greeting the audience of journalists and analysts, before briefly describing his job as "getting to dream for a living."
But after being asked by Samsung VP Joe Stinziano what inspires him to create his films, Bay said: "As a director I try to..." before turning his back on the audience and saying "the type is all off sorry, I'll just have to wing this...we'll wing it right now."
Appearing to get back into his stride, Bay then said he tries to "take people on an emotional ride," but paused once again. Despite being prompted by Stinziano to talk about how the television's curved display could improve films, the 48-year-old apologised and quickly left the stage.
Now stranded on stage during an awkward silence, Stinziano asked the audience to thank Bay for his appearance - a request greeted by hushed clapping.
As expected, the event was soon trending on Twitter, with a deluge of comments likening Bay's performance to his films. "Michael Bay stormed off stage at CES after his teleprompter broke. No script, big explosion & a disappointed audience. Dude's still got it!" comedy account FunnyOrDie tweeted.
Another Twitter user said: "Haven't cringed like that since Transformers 2," but others were more sympathetic towards the director's stage fright.
Shortly after the conference ended, Bay blogged to explain the bizarre incident. "Wow! I just embarrassed myself at CES," Bay wrote. "I was about to speak for Samsung for this awesome curved 105in UHD TV. I rarely lend my name to any products, but this one is just stellar.
"I got so excited to talk, that I skipped over the Exec VP's intro line and then the teleprompter got lost. Then the prompter went up and down - then I walked off. I guess live shows aren't my thing."
Despite Bay's explanation of a failed teleprompter, BBC technology editor Rory Cellan-Jones tweeted: "Samsung PR sources insist it didn't fail."