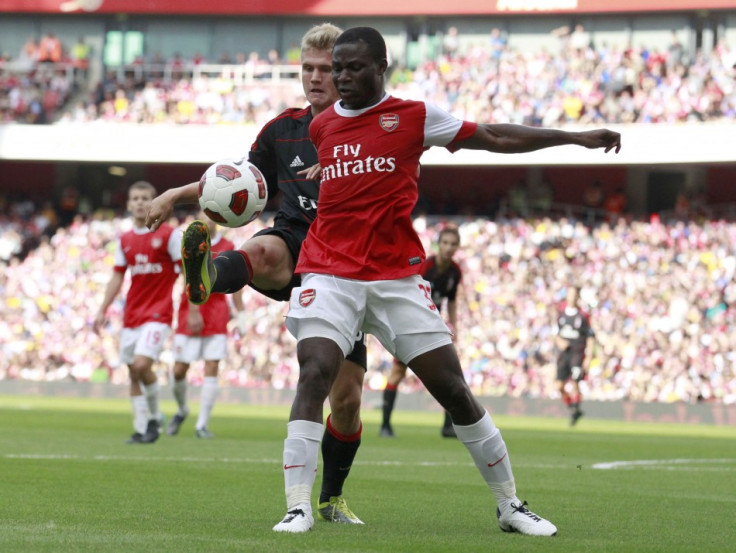 Arsenal midfielder Emmanuel Frimpong has been warned about his future conduct after tweeting an anti-Semitic slur at a Tottenham Hotspur fan.
The 20-year-old, who is currently recovering from a knee injury, posted a message on his official Twitter account which said: "If you going church today Pray For me Giving today A Miss."
A Spurs fan then replied to Frimpong saying "I prayed you break your arms and legs." The midfielder then retweeted this with the response "> Scum Yid" - a derogatory term for a Jewish person.
Many Tottenham Hotspur supporters freely describe themselves as a "Yid" or "Yiddo" due to the club's high proportion of Jewish supporters at the north London club, but is also considered offensive and anti-Semitic.
The tweet was quickly deleted by Frimpong after it received angry responses from both sets of supporters.
The FA are aware of the matter, but have made no official comment. An Arsenal spokesman said: "Emmanuel Frimpong has been reminded of his responsibilities" and will take no further actions.
Last year, comedian and Chelsea supporter David Baddiel launched a campaign to stamp out use of the word "Yid" in football chants.
Derbyshire Police have also said they are to launch an investigation into alleged racist comments against Chelsea defender Ashley Cole on Twitter, four days after club teammate John Terry was cleared of racial abuse.
It is reported Cole, who defended Terry is court from charges Queens Park Rangers player Anton Ferdinand, was reportedly referred to as a "Choc Ice" by a Twitter user - a term meaning black on the outside and white on the inside.
Cole tried to defuse the situation on Sunday by releasing a statement through his lawyers, saying he "has no intention of making a complaint."