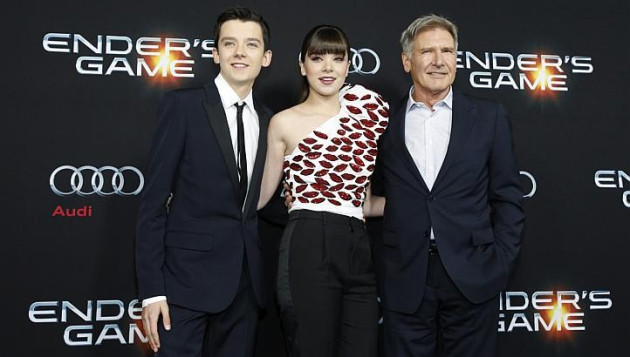 Sci-fi adventure Ender's Game has battled its way to the top of the US box office chart in its debut weekend.
The film, which is set on a future dystopian Earth where children are manipulated into fighting an enemy race, racked up an impressive $28m (£17.5m), according to estimates.
The blockbuster sum meant that Jackass Presents: Bad Grandpa, about an 86-year-old man who takes his eight-year-old grandson on a road trip across the United States, was pushed to second place just a week after hitting the number one spot.
Ender's Game, based on Orson Scott Card's novel of the same name published in 1985, stars Asa Butterfield as Ender Wiggin, a young boy singled out from childhood for his superior intellect.
He is multiplied and put through advanced warfare training by Colonel Graff, played by Harrison Ford
"It's about young people being asked to accept huge responsibilities, being trained for warfare because it's proposed that they have this capacity to absorb information more quickly than older people," Ford told Reuters.
Last Vegas, which stars Michael Douglas, Robert De Niro, Morgan Freeman and Kevin Kline, opened in third place, with $16.5 million.
Children's animation Free Birds debuted in fourth spot with takings of $16.2m (£10.1m).
Gravity, now in its fifth week, held on to fifth place after banking $13.1 million over the weekend.
The Space thriller, starring George Clooney and Sandra Bullock, has made a domestic total of $220 million to date.
Box-office analyst Paul Dergarabedian of Rentrak said: "It's interesting to see the number of stars that are not in their 20s in the top films.
"Ender's Game has Harrison Ford and Viola Davis, and Last Vegas is like a Hangover for the older crowd. Sandra Bullock and George Clooney - in Gravity - appeal to an older audience, and 12 Years a Slave... is a very sophisticated drama."