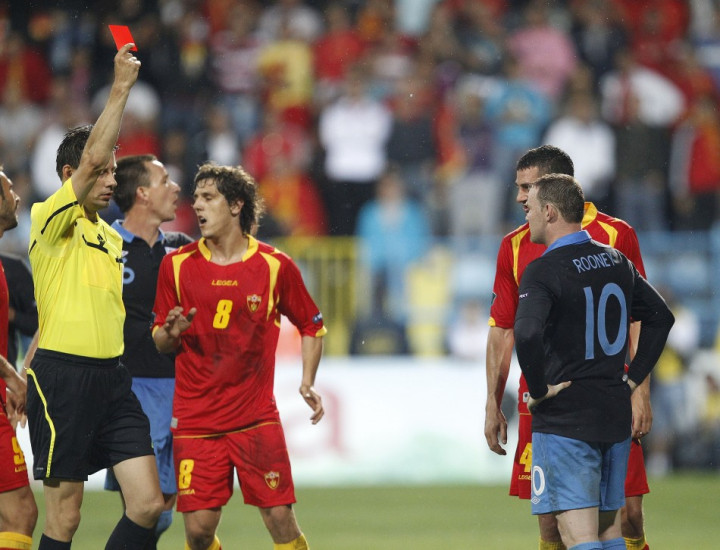 England striker Wayne Rooney has been handed a two-match suspension for his dismissal against Montenegro.
The Manchester United forward was shown a straight red by referee Wolfgang Stark for kicking Miodrag Dzudovic and will now miss two of England's three group matches in the Euro 2012 finals next summer.
UEFA's disciplinary and control body met Thursday in Nyon, Switzerland to review Rooney's dismissal.
The European body's disciplinary regulations article 10 states the "suspension for three competition matches or for a specified period for assaulting another player or other person present at the match."
Rooney's suspension was capped at two matches after UEFA agreed with the Football Association that the forward's kick was petulant rather than violent. Serious violence on the field can warrant a five-match ban, according to the regulations.
The FA submitted a dossier earlier this week which included a letter written by Rooney, pleading for leniency.
The closest precedent to Rooney's case occurred in 2008 when the Russian Football Federation managed to get Andrei Arshavin's ban reduced to two games after experts and lawyers testified before the UEFA panel.
Rooney became the second player to be sent off twice for England (David Beckham being the other) but despite picking up the sixth red-card of his career, manager Sir Alex Ferguson is not overly concerned by his striker's temper.
"He has been tackled and he has reacted," Ferguson told a U.S. radio station.
"He has this fiery temper which, to my mind, is not the worst thing in the world. He has shown tremendous improvement in his temperament and his reactions to tackles and things over the past few years. He is improving all the time."
The FA has said it will appeal UEFA's decision.
National Dilemma
England coach Fabio Capello confirmed earlier this week that Rooney will not start another game for his country before next summer's tournament.
Capello issued the stark warning to the Manchester United forward in the wake of Friday's 2-2 draw in Podgorica, saying he "will not play" in next month's friendly against Spain and is unlikely to feature in Engand's remaining warm-up fixtures.
"Without the sending-off of Rooney we would have won," the manager said as he discussed the sixth red card of Rooney's short career.
"Sometimes he will come on at half-time. But not from the start; he will not start. We need to prepare the first XI who will start in the Euros. He will be fresh."
The Italian stressed that Rooney remained an intrinsic member of the England set-up but warned the striker that he could not expect to walk straight back into the first XI after his suspension.
"I need to find the solution for the first game, or two games, that Rooney will not play," said Capello. "And if we find that solution, he needs to work to return to the first 11.
"You know me. Sometimes I make mistakes but I try to select the best players, in the best moment of form. There were two I did not select for this game who are doing really well. I saw the game that [Jermain] Defoe played against Arsenal. He did really well. He ran a lot and pressed a lot. Daniel Sturridge is the same."