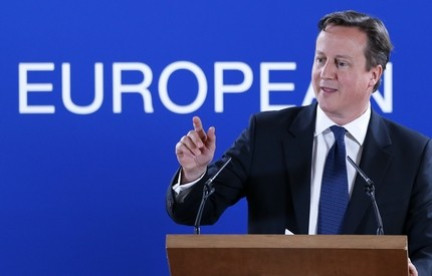 There must be an EU summit around the corner - the British prime minister is looking for a fight.
David Cameron, painfully aware that the truce with his Eurosceptic backbenchers is an uneasy one, is perpetually out to prove he means it when he says he is standing up to Brussels.
So, with a meeting of the European Council set for the end of next week, the prime minister has started slapping down a few challenges, both real and imagined.
The latest came after the cabinet received a report from a business taskforce, comprised of six leaders of industries including Marks and Spencer and Kingfisher, which set out the case for a new bonfire of EU regulations which, they claimed, were stifling enterprise and costing billions.
They urged Cameron to press for a relaxation of rules on health and safety, the fast-tracking of payments by credit cards, online and mobile phones and easing of rules over chemicals, amongst others.
The PM backed the call with a letter to other EU leaders saying they needed to do more to tackle the issues and "put business at the heart of this debate, listening to what they need to successfully compete".
The Commission immediately responded, saying it welcomed any ideas to help cut regulations while insisting a programme was already underway and further proposals would be put before the summit by Commission President Jose Manuel Barroso.
On this issue, then, it appears Cameron is pushing at an open door.
Meanwhile, a row is brewing over the issue of so-called benefits tourism after the Commission claimed the government over-hyped the problem and had failed to provide any evidence that it existed to any real degree.
Cameron has long argued that the UK's generous welfare system acted as a "pull factor" for migrants and, along with other such factors, is something he is determined to end.
And he has floated a range of policies to tackle the issue, including limiting access to the health service and housing benefits.
But Brussels Commissioner Jonathan Todd told the Guardian newspaper: "They have completely failed to come up with any specific evidence that there is systematic or widespread abuse of the system. On the contrary, EU nationals are net contributors to the UK welfare system. They pay more in tax and social security contributions than they receive in benefits. So the more EU migrants you have the better off the UK welfare system is."
Needless to say that went down badly in Downing Street with the prime minister's spokesman insisting there was an issue and declaring: "The European Commission isn't in charge of our immigration policy."
So there will be tough talk on this one. And that is the underlying agenda here.
The government's allegedly semi-detached approach to Europe has seen it accused of sitting on the sidelines while other countries press ahead with their agenda. So the prime minister wants to show he is in there, battling for Britain. Fair enough, that is what all national leaders do before such summits.
But he also has the lingering problem of his backbench rebels who want an ever looser relationship with the EU or who, along with UKIP, want withdrawal. The prime minister's task there is also to offer some signs that he is not a rollover in Brussels and that he has support for his own agenda amongst other EU leaders.
The full extent of his problem there was mapped out by Paul Goodman, the editor of the influential ConservativeHome website who said Cameron needed soon to start setting out exactly what powers he was planning to repatriate from Brussels after the next election if he was to maintain his uneasy truce with his rebels, or wait until the election campaign when it could turn into another damaging internal squabble.
And, while all this is going on, Chancellor George Osborne is wooing Chinese investment in an attempt to show there is economic prosperity to be harvested from beyond the EU, particularly at a time when the ongoing economic crisis is dominating Europe.
The re-election of Angela Merkel in Germany appears to have strengthened Cameron's hand when it comes to more wide-ranging reforms of the EU and he will undoubtedly be looking for signs that the two can work together to forge an alliance on Europe more in line with his vision.
As ever with these summits, when the prime minister reports back to MPs in the Commons on his return, he will be claiming victories in a number of directions, presumably on red tape and perhaps even immigration.
The key will be whether his backbenchers buy it.