Simon Mignolet is very far removed from your average footballer. He can converse confidently in five different languages, has a degree in social science and is well versed in the nuances of Belgium's Senate and Chambre des Représentants. As you can probably imagine, he is an intriguing character.
There are very few professionals who make the decision to pursue their education once they realise they have a career within the game. When Mignolet was signed by Sunderland back in the summer of 2010 it would have been easy for him to get carried away by the lavish lifestyle that comes with earning unthinkable sums of money for a then-22 year old.
Fortunately some sound advice received from his parents when he was a teenager reminded him that life as a footballer can be fickle. Injury can strike at any moment and careers can be over before they even started. So rather than spending his summers in luxurious resorts, he was behind a desk completing his degree at the University of Leuven.
Speaking to him about his academic achievements you realise he remains a modest and level-headed individual. Despite his career reaching new heights as he firmly established himself as Liverpool's number one, Mignolet remains modest whether discussing penalty saves or his knowledge of Belgian politics.
"I specialised in politics in my final year as I thought it would be the easiest to combine with football. I went back to Belgium to complete my exams during the off-season so it was easy to concentrate solely on football when I needed to. Then when the summer came round I started to study and fortunately I passed my final modules and completed my degree," explains Mignolet as if this is the norm for every professional footballer.
"I started the course while I was in Belgium so when I joined the first team at 17 my parents wanted me to have something behind me in case I didn't quite make it in football. I think it is very dangerous to put everything into football at a very young age."
With clubs striving to find the best talent from around the world, young players have a miniscule chance of making a living out of football. So many young men neglect their studies when at an academy, but Mignolet would encourage every young hopeful to gain an education. Something that will ultimately help in an industry that is notably cut throat.
"When you are only 14 or 15, it s a very dangerous thing to put everything into football. I think its important to get as much education as possible, because it not only helps you after your career, but during as well."
Mignolet is certainly a man in control of his own career. Having made the decision to swap Sunderland for Liverpool, a move that could have resulted in him playing second fiddle to Pepe Reina, he immediately cemented a strong relationship with supporters by saving a penalty on his competitive debut against Stoke.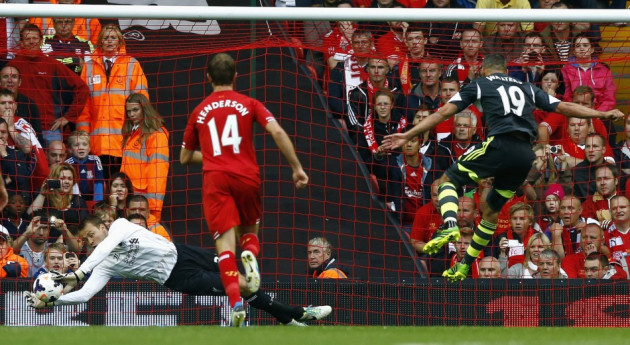 Three clean sheets in his first three league games also helped endear him to supporters, something he was eager to achieve.
"When you settle in you always how to show the fans what you are capable of doing so when that happened [saving the penalty from Jon Walters] it gave me great confidence. I could never have dreamed of such a moment and I'm very pleased with how things have gone since I joined Liverpool," Mignolet acknowledges.
"We are second in the table after a fantastic start and I just hope we can keep it going. It could be a very special season especially with the chance of going to the World Cup next summer."
Any plans of furthering his education may well have to be put in hold next summer. Belgium qualified for the World Cup in Brazil and despite Mignolet having to warm the bench as Thibaut Courtois remains first choice, he is almost certain to be a member of Marc Wilmots squad.
He remains close friends with many of the hugely talented Belgium squad and it seems he has a strong fan base back in his native country. During Liverpool's recent 3-1 win over Crystal Palace, some 55 supporters from his hometown of Sint-Truiden made the trip to Anfield.
Meeting up with the Belgian squad also allows him to spend time with his family, in particular his father, the man that persuaded Mignolet not to give up on his dreams of becoming a professional footballer.
Growing up he watched the 1994 World Cup wanting to emulate Romario and Bebeto. By the time the competition reached France in '98 his hero was Zinedine Zidane. Yes the idea of playing in goal was very foreign to Mignolet growing up, his ambition was to be a central midfielder. But at the age of 14, like so many across the globe, his dreams were dashed.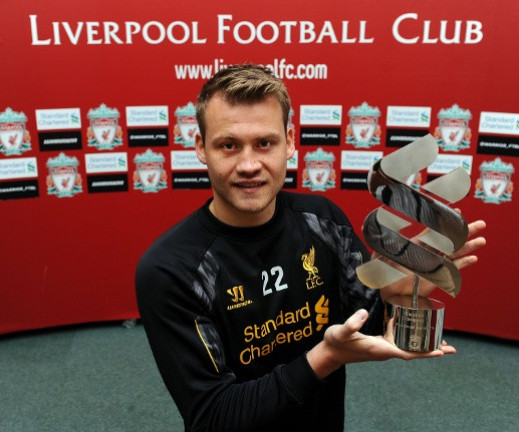 Told he would never make it his father, a former goalkeeper himself, convinced him a career in goal could lie ahead. "If it wasn't for my dad who told me that I had the talent to become a goalkeeper, and he saw in training that I could do something, who knows what would have happened.
"Obviously I still had to put in the work but the advice I received at that time really helped me."
Just one year later Sint-Truiden would offer him another chance and he would go on to make more than 100 appearances for his hometown club. Overcoming such a setback has clearly made Mignolet a strong character. A trait that is vital when coming under intense pressure as a top class goalkeeper at one of the biggest clubs in the Premier League.
Highly educated and multi lingual, he speaks English, French, German, Dutch and Flemish, it does not mean the same nagging doubts do not creep into his mind when he makes a high profile error. It is something every player has to deal with. The spotlight is also intensified for goalkeepers but Mignolet's inner strength means he believes he can cope with anything.
"When you make a mistake you have to be ready to take some criticism," Migonlet coolly responds. "Fortunately it has gone well for me at Liverpool but if things go against you it can be tough. That's when you depend of the support of fans, the manager and the players around you."
Whether questioned on politics or the pressure of the media spotlight, he is unflappable; much like his performances for Liverpool this season. With his degree completed, a trip to Brazil awaiting him next summer, and an exciting season ahead with the Merseyside club, it seems there will be many more chapters to his already incredible story.
To get the latest updates from Simon simply follow him on Twitter @SMignolet