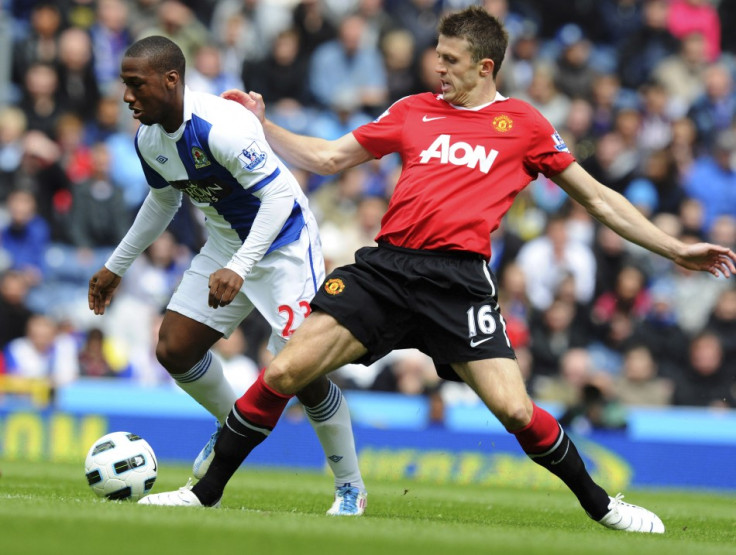 Blackburn Rovers youngster Junior Hoilett is likely to remain at the club beyond the January transfer window, despite reported interest from Tottenham and a diminishing contract which expires in the summer.
In an exclusive interview with The International Business Times UK, Hoilett's father and agent, David Hoilett Sr. claimed the on-going uncertainty surrounding Blackburn captain Chris Samba, who on Monday afternoon handed in an official transfer request, made a possible exit for the young winger very unlikely, despite confirmed interest from Tottenham manager Harry Redknapp.
"Considering his contract, there have not been any talks recently and to be honest I don't really see any at the moment. I don't think there will any more talks at the moment." David Hoilett Sr told The IBTimes UK.
"Concerning a move to other clubs, it is a bit up in the air at the minute. I can see with the club knowing that they will get some sort of compensation; it may not be within their best interests to off-load him considering what is going on with (Christopher) Samba at the moment."
Earlier in January, Samba gave an interview to L'Equipe confirming his desire to leave Blackburn following the club's inability to match his ambitions and show the necessary progression.
Two offers from Queens Park Rangers have subsequently been rejected while Tottenham and Paris Saint Germain have also been linked, and David Hoilett Sr., speaking prior to Samba's official transfer request, inferred the 27-year-old is the more likely of the two Blackburn stars to leave Ewood Park this month.
"I can't really see them letting both of them go at the same time and with Junior's contract ending at the end of the year, the value they could get for Junior would be less than what they would get for Samba." He continued.
"So at the present time I don't really see them letting both of them go."
Should Hoilett join one of his rumoured English suitors in the summer, Blackburn would be entitled to a development compensation fee because he is under the age of 24. While a potential sale this month would earn Rovers more in a monetary sense than the aforementioned compensation, Samba is on a three-year deal worth a rumoured £60,000 a week, and would therefore command a more lucrative fee.
Hoilett on the other hand, will shortly be a free agent and although Blackburn would lose their entitlement to the development costs were he to leave the Premier League entirely, that outcome seems unlikely given the recent conjecture.
Tottenham appear the most credible of a number of English clubs linked with Hoilett, most notably Liverpool, Bolton Wanderers and Sunderland, but his father was keen not to "compromise his position at Blackburn" by naming the youngster's possible admirers.
Additionally, Hoilett Sr. intimated he had not been informed by Blackburn if there had been any offers, even though he hinted he was aware of those in the frame.
"To be honest, I have not had any response from Blackburn regarding that (potential offers). I am not sure of the situation with other clubs." The agent added. "I have an idea which clubs (might be interested), but at the minute that is confidential."
Regardless of the obvious interest in the increasingly influential winger, Hoilett Sr. reiterated the notion Blackburn could ill-afford to lose two of their best players, particularly during their on-going battle for Premier League survival.
"I can't see Blackburn letting them both go, and if Samba is pushing for a move I can't really see them both leaving." Junior's father continued. "Unless they have good replacements coming in, it would be pretty stupid to get rid of both of them, especially with their hopes of remaining in the league.
"The value they could get for both players is nothing compared to them staying in the league. I really don't see them both going at the same time."
Blackburn recently released a statement regarding their frustrated centre-half that suggested they would not part with Samba regardless of his perceived mistreatment by the club.
On Saturday, Kean reiterated Blackburn's stance when he told reporters: "We put out a club statement which was quite strong, saying that Chris was not for sale and as far as I am concerned, there is a line drawn under it."
Should Samba stay at the club, Hoilett Sr. suggested it may raise the prospect of Blackburn selling the young winger, but he believes that appears unlikely given the defender's recent comments and subsequent transfer request, which happened after the interview with the Blackburn youngster's agent.
"From what I've heard about Samba pushing for a possible move, it could be a sticky situation." Junior Hoilett's father added.
While Samba has made his intentions patently obvious with his formal transfer statement, Hoilett Sr. maintained they would continue to respect Blackburn Rovers' wishes and refuted stories they had handed in an official transfer request.
"There was a rumour we handed in an official transfer request, but that is a rumour, we never did."
At the beginning of the month, beleaguered Blackburn boss Steve Kean told the BBC that they would consider offers for the 21-year-old but ideally they wanted to retain the clearly talented starlet.
"If there's a bid that comes in, then we'd have to consider that." The Blackburn Rovers manager said. "No bids have come in but we haven't spoken to him about extending his contract.
"We've continued to keep dialogue with Junior. What we have to do is continue to be open and honest with Junior and say 'we want you to stay'. We've always said from day one that we'd like to get it tied up. I think he's probably taken the opportunity to look elsewhere.
"I don't really know where he is on it but we're anxious to continue an open conversation with him and if he decides to sign, great."
As a result, Tottenham were strongly linked with a £15 million double raid on Blackburn for both Samba and Junior Hoilett, yet the possibility of Kean losing both players would undermine his already perilous position at the Lancashire club.
Hoilett started Blackburn's superb victory over Fulham on Saturday which helped move Rovers out of the bottom three for the first time since September.
Prior to the match, the Lancashire Telegraph suggested Hoilett would be open to staying at Blackburn beyond his current contract, but his decision would be determined by the club's much maligned owners' ambition in the transfer window.
On Monday afternoon, Samba formally confirmed his desire to leave Blackburn in this transfer window.
"I have today officially requested a transfer from Blackburn Rovers Football Club. I have personally informed the owners, manager and executives at the club that I want to leave in this transfer window." The defender said in a statement.
"In my five years at Blackburn Rovers Football Club I have always given 100 per cent in every game I have played. I have had several opportunities to leave but I have always stayed.
"I have decided now is the right time for me to pursue a new challenge and I have asked the club to respect my decision and allow me to leave.
"I thank the fans for their support and I hope they feel I have served them and their club well."
Blackburn are in the 17th place, level on points with QPR, but with a superior goal difference. Steve Kean's side face Everton and Newcastle in their next two games.