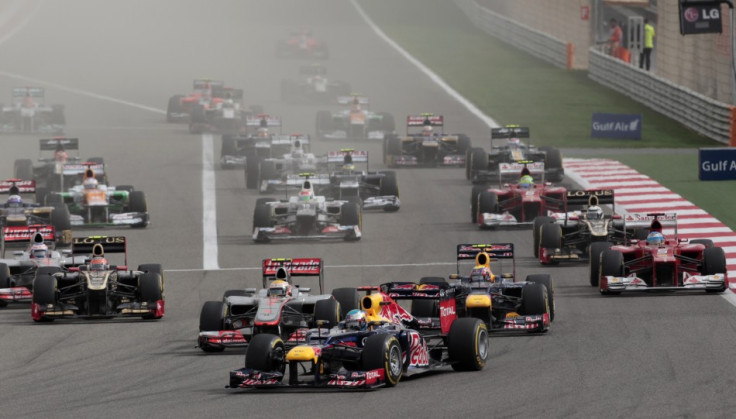 The Bahrain Formula 1 Grand Prix has begun as the anti-government activists continue their protests demanding cancellation of the race.
The race is underway amidst tight security with multiple checkpoints and armoured vehicles ready to confront any possible protests.
However, it seemed that the mounting tension outside the race track has infiltrated in to the stadium as the viewer's galleries looked near empty.
The Bahraini government has intensified the security in the city with deployment of several layers of security personnel around the race track at the Bahrain International Circuit at Sakhir.
According to reports coming out of Bahrain, long convoys of police cars are already seen on the roads of Manama leading to the stadium.
There were also reports of police blocking the entrance of villages to prevent protesters from coming out to the streets.
Fresh clashes were reported on Saturday after a Shiite protestor was found dead on the rooftops of one of the buildings.
The anti-government protestors claim that the activist, Salah Abbas Habib was hit by a birdshot.
Early on Sunday, tyres were set on fire by the anti-government activists in Budaiya, west of Manama.
Meanwhile, in an apparent effort to ease the mounting tension ahead of the race, Bahrain's King Hamad al-Khalifa declared his commitment to reforms.
"I also want to make clear my personal commitment to reform and reconciliation in our great country. The door is always open for sincere dialogue amongst all our people," the statement read.
The event has already attracted lot of international attention due to the latest protests demanding the cancellation of the race.
British Foreign Secretary William Hague spoke to his Bahraini counterpart to "call for restraint" in dealing with protesters, the BBC reported.
Recently, the Amnesty International has called for the release of all the prisoners of conscience captured for their involvement in anti-government protests in 2011.