Find out who Eddie Alvarez's coach Mark Henry thinks Conor McGregor should beat to be called the greatest
Mark Henry believes the Irishman needs to beat Frankie Edgar and Khabib Nurmagomedov to be called the greatest.
Former Ultimate Fighting Championship (UFC) lightweight champion Eddie Alvarez's coach Mark Henry has called current lightweight and featherweight champion Conor McGregor great but claims that he can only be called the greatest Mixed Martial Arts (MMA) fighter if he beats Frankie Edgar and Khabib Nurmagomedov.
McGregor who reportedly has been stripped of his featherweight title dominated the bout with Alvarez at the UFC 205 event in Madison Square Garden in New York, ultimately winning in the second round becoming the first person in the history of the company to hold two world championship belts at the same time.
"I'd say he was the greatest if he beat Frankie and Khabib. Then I'd put him as the greatest. But until he does that, I still think he's one of the greats. He's never defended the featherweight title. He says he's cleaned out the division, but until you fight Frankie, you haven't cleaned it out," said Henry as quoted by Pundit Arena.
"If he fought Frankie he'd be able to say that as he's already fought Holloway, he's already fought Aldo and he's already fought Mendes. But he's never fought Frankie. I think Frankie has been a staple as one of the best fighters ever. And he's definitely a staple at 145lbs. It doesn't matter that he beat Aldo and Frankie didn't because you could say, whoever beat Nate Diaz could beat McGregor and that's not true. That's just stupid even saying that."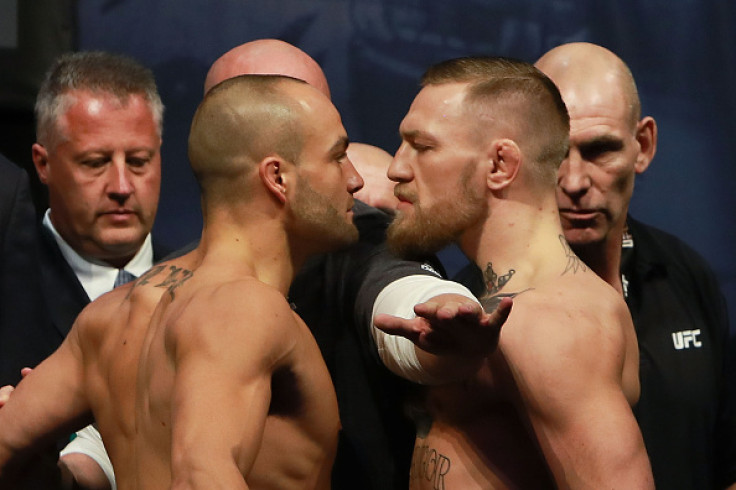 The Irishman has been in the news recently with reports indicating that he has been stripped of his featherweight title with Brazilian Jose Aldo named the new undisputed 145-pound champion. Max Holloway and Anthony Pettis bout are the new contenders for the title with the winner of their UFC 206 bout expected to be given a title shot against Aldo in the future.
© Copyright IBTimes 2023. All rights reserved.