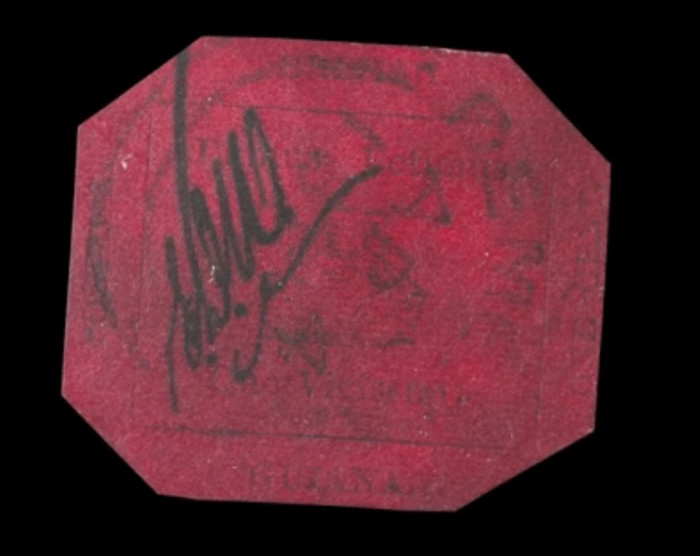 The world's most valuable stamp is to be put up for sale by Sotheby's of New York tonight (17 June), with an estimated value of US$10-20 million.
The British Guiana One-Cent Black on Magenta was designed in 1856 in Georgetown, British Guiana and the one at auction is the only one left in the world. On the three previous occasions it was put up for sale it set an auction record for a single stamp. Measuring just 2.5cm by 3.2 cm, if it sells for the estimated value it will become the most expensive item by weight ever sold.
David Redden, Director of Special Projects and Worldwide Chairman of Sotheby's Books Department, says the British Guiana can be spoken of in the same bracket as other famous Sotheby's sales including the Magna Carta, Bay Psalm Book and Meiyintang Chicken Cup.
"The British Guiana is not only the greatest, most valuable stamp in the world," says Redden, "it's also one of these pinnacles. You look across the rest of the collecting world and you see other great pinnacles and you put the British Guiana in that context. When it sells it will be, by size and weight, simply the most expensive object ever sold in history."
The stamp is being sold by the estate of its last owner, John du Pont, heir to the chemical dynasty, who was convicted of murdering a champion Olympic wrestler in 1997 and died in prison in 2010. Some of the proceeds of the sale will be donated to the Eurasian Pacific Wildlife Conservation Foundation.
Stamp collecting, or philately, is one of the world's most popular hobbies. Although the number of enthusiasts is fewer than in its heyday one hundred years ago it is estimated some 200 million people worldwide still collect stamps - so if they each put in 5p, between them they could afford to purchase the British Guiana One-Cent Black on Magenta.