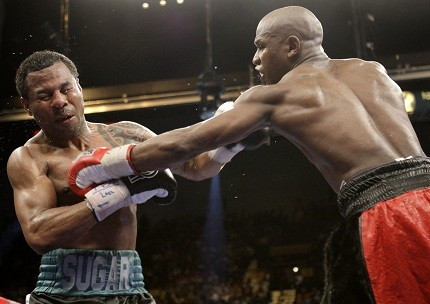 WBA light-welterweight champ Khan has the next 18 months of his career mapped out, starting with his unification showdown against Zab Judah in Las Vegas on July 23.
Next up would be a likely fight with Erik Morales in December followed by a return to the UK where the 24-year-old would step up to welterweight, with Kell Brook in his sights. And the most mouth-watering clash with Mayweather has been pencilled in for November 2012.
The four bout programme for Amir Khan will culminate in a super fight with Floyd Mayweather jnr that could be worth around $100m. The best pound for pound fighter in the world is said to be on board for the fight and the Khan camp are happy to see if a deal can be done for a fight that would not doubt be fought in Las Vegas.
The two camps have agreed in principle the terms of the super fight but both men would have to stay unbeaten until next year. WBA light-welter-weight champion Amir Khan is set to fight IBF title holder Zab Zudah on July 23 in Las Vegas whilst Floyd Mayweather fights Victor Ortiz. If both men finish those fights unscathed it would seem a deal would be closer to happening.
The potential for a fight between Floyd Mayweather and Amir Kahn to take place looks all the more likely because of delay in getting Floyd Mayweather in the ring with Manny Pacquiao. Freddie Roach, who trains both Khan and Manny Pacquiao raised doubts last year as to whether the bout would ever take place because of issues over drug testing and it now seems the next best option is for Khan to face Mayweather in what would be a Las Vegas super fight.
Meanwhile, influential boxing executive Richard Schaefer has now admitted Khan's representatives are in talks with Mayweather over a fight in 2012. He said: "We believe in Amir and believe he is ready. These are big plans but Team Khan are on board. "I've had conversations with Mayweather and his adviser Al Haymon and they are definitely open to a fight with Amir Khan, absolutely."