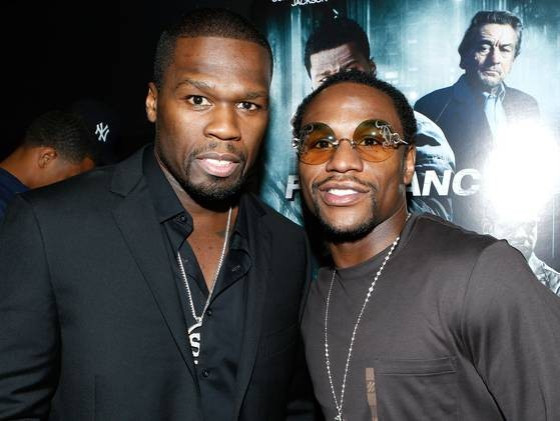 50 Cent has sensationally revealed that his fallout with boxing champion Floyd Mayweather was a publicity stunt.
The rapper turned music mogul shocked fans by making the confession on his Twitter page.
In a string of posts he explained to his 8 million followers that he only went onlong with the plan to help his pal garner publicity following his recent stint in jail.
"I'm sick of all this nonsense Floyd asked me to act like we were fighting cause no one was paying attention after his 60 days," he wrote.
"I know some the thing we do in hip hop for shock value are wrong. He just wanted some attention Floyd is like a brother to me.#SMSaudio. I always tweet thing for him like follow his fiancée and help promote him but one, I'm done with please don't ask me about it. #SMSaudio."
The duo recently made headlines after 50 Cent, real name Curtis Jackson, took to Twitter to announce the dissolution of The Money Team, a joint venture between him and Floyd Mayweather.
Newspapers, blogs and social media sites soon went into a frenzy after the two had heated exchange spat on the micro blogging site.
While Mayweather bashed the hip hop star's album sales, 50 Cent claimed that the millionaire boxer was on an allowance after going broke.
Unimpressed fans have since headed online to share their views on the publicity stunt.
One commentator said: "this by FAR IS THE WACKEST SCENARIO I HAVE EVER SEEN...both these guys are weak for this..i'm done with both of them...FLOYD I WILL NOT PAY TO SEE YOU FIGHT ANYBODY BUT MANNY PACQUIO....and everybody else should do the same....its time for the fans TO DICTATE WHO FIGHTS WHO...NOT THESE F****D IN THE HEAD GREEDY PROMOTERS."
Another wrote: "Now he's resorted to lying? Smh"