Johnny Herbert has claimed that Lewis Hamilton is incapable of winning a race with Mercedes this season, despite the Brit insisting he has confidence in the performance of his car.
The team has had issues with their rear tyres, and over the break before the Spanish Grand Prix Mercedes have been working on fixing the problems, as both Hamilton and Nico Rosberg admitted they struggled in Bahrain.
But Herbert, who raced for a number of teams and collected Formula One wins between 1989-2000, believes that Hamilton won't win a race this year, claiming the problems won't be fixed this season.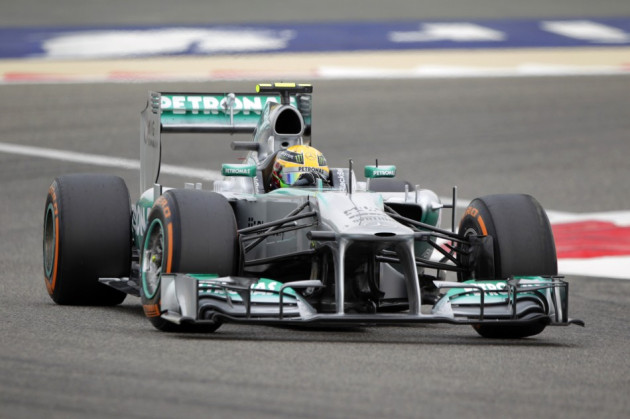 Asked if Hamilton had a shot at the title, Herbert told the Sun : "In a very short word, no. It's not going to happen.
"I don't think Mercedes can even win a race this year."
He continued: "There are big changes in the rules next year with new 1.6-litre V6 turbo engines, meaning a wholesale re-think for the cars.
"The situation facing Mercedes now is similar to that which faced Honda in 2008.
"To try to sort it out, Honda boss Ross Brawn stopped development of the car to concentrate on the following year.
"The team then produced a cracking car for 2009, when it became a Brawn and won Jenson Button the world championship.
"Is there a chance of the same thing happening at Mercedes? Yes.
"I don't think they'll win this year because of that issue with the tyres. They've got to put all their efforts into next year."
Hamilton has insisted continually that he is happy with the progress being made by Mercedes, saying he is fully prepared for the race in Barcelona this weekend.
"Everyone brings upgrades to this race, the first one in Europe, and the question is how big will ours be compared to everyone else's," he said in a blog for the BBC.
"I'm told that because the current rules are now into their fifth year, teams are getting to the end of the road in terms of evolution, so I don't expect people are going to come here and gain half a second.
"I suspect it will be smaller steps than that, and fine-tuning through the year, but I'm really positive about the changes we have made on the car.
"This was a good track for us during pre-season testing and I hope it will be again."