There used to be something called the curse of Friends, where the stars of TV's hottest show found it hard to find success after the series ended. Jennifer Aniston was the first to crack it and, having turned his hand to directing and voicing the wildly popular Madagascar series of films, so has David Schwimmer.
He tells IBTimes UK why he'd rather be a giraffe than a lion and how he feels about a possible Friends spinoff movie.
IBTimes UK: Is it hard to return to a character for the third time?
David Schwimmer: I feel like I know the character better now. And the writers probably know our characters better now due to the two previous films. When they called and asked me to bring Melman back I was excited. It's always nice to be invited back.
IBT: Is a giraffe the perfect fit for your voice?
DS: It's funny, when Jeffrey Katzenberg first approached me and told me the story about these four animals, I wondered which one he had in mind for me. When he told me it was the giraffe, I was really relieved.
IBT: Why?
DS: I have always had an affinity toward giraffes. I think it's because I feel they are so vulnerable. They seem to be such big targets in the animal kingdom.
IBT: Three movies in, what gives this franchise its staying power?
DS: The humour caters for adults and children. And the films always take you to different places. We've been to Africa, to New York, and now we find ourselves in Europe.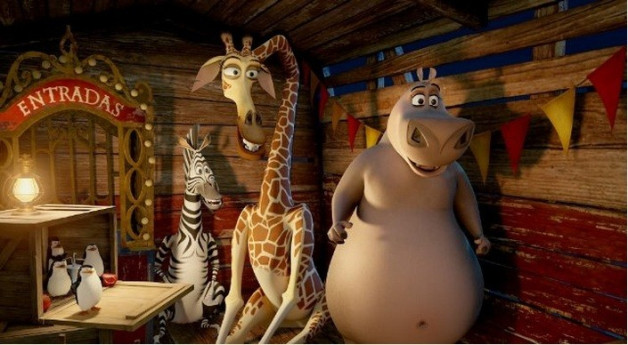 IBT: Is there a big difference between directing and doing a voiceover for an animated film?
DS: This doesn't feel that heavy, it's not like directing. Directing is so time-consuming. This is quite the opposite - they need you for a day every two or three months.
IBT: Is it easy to get in the zone with such a drawn out recording schedule?
DS: It's like throwing on an old comfortable jacket. Become that character and give them everything you've got. But it's still hard work and by the end of the day you are totally exhausted. Your voice is gone, you are just tired. The next day you go on to the next thing. And it's not until they call again that you will have to get back into that character.
IBT: You've already directed a handful of TV movies, the Simon Pegg film Run Fatboy Run and the thriller Trust. Are we going to see more from you in that role?
DS: There are a couple of things I have in development as a director. Two films and one play I will be directing with my company in Chicago.
IBT: Any acting jobs?
DS: I just did a little guest thing with Lisa Kudrow on her show Web Therapy, and I just did the movie The Iceman. I will also be doing a play off Broadway this summer.
IBT: You have also become a father as well. How are you coping with that given your busy schedule?
DS: I am having a blast. It's everything my friends said it would be and more. And I am laughing every day. It's deeply fulfilling. It brings you closer to your partner as well. I am in that loving period right now.
IBT: Would you be interested in doing a Friends movie?
DS: We've been asked to do a film, but I just don't see a good reason. I liked how the show ended. Moving beyond that just sounds a little disingenuous to me.
Madagascar 3: Europe's Most Wanted is out on DVD and triple-play Blu-ray on 11 February 2013.