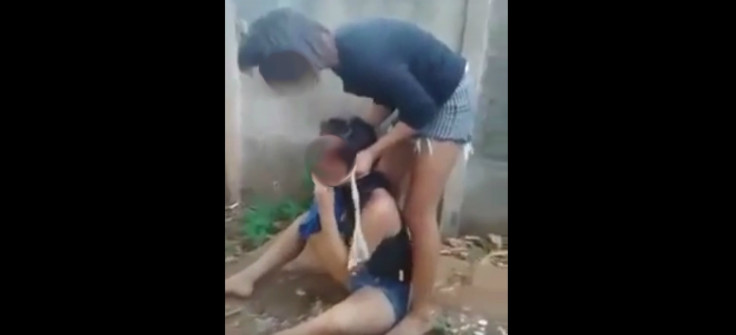 Four schoolgirls dragged their 14-year-old victim to a shallow grave before tying her hands and feet and attacking her with sticks and a machete. The injured girl was only able to escape when they left her to wash her blood off their hands.
Police reports say that the torturers, all aged between 13 and 16, were planning on killing their 14-year-old victim as an appalling conclusion to their violence.
The four girls were arrested in Trindade, Brazil, and the horrifying footage was discovered on their phones.
They lured their victim to the garden of a house by telling her a party was due to take there.
"They called me round to their house and when I arrived, they began to hit me," she said.
"They tied me up and showed me where I was going to be buried.
"Then they stabbed me and put me in the hole in the ground. I thought I was going to die there."
Renata Vieira, the police officer in charge of the case, told Globo.com: "The main reason for the attack was that the girls had helped organise a 15th birthday party with the boyrfriend of one of the attackers.
"The youngest of the attackers said that the victim had started seeing this boy. That was the reason for the attack. They were schoolmates and one of them had known her for at least 10 years."
Police said one of the suspects admitted they had intended to kill the injured youngster and confessed she was annoyed she had escaped.
She said their plan had not succeeded because they had been "slack".
Local judge Karine Spinelli agreed to remand the suspects in custody pending an ongoing judicial probe.
"The whole thing is terrifying. I don't think I've ever come across a situation like this," she said, according to the Daily Mirror.
The girls face charges on crimes of torture and attempted homicide, but because of their age are expected to be sentenced to three years in a young offenders' institution if they are convicted.
They have been receiving death threats on social media since being held.