Former Premier League referee Graham Poll has called on the Football Association to improve the standard of officiating in England, amid recent criticism from a host of top managers.
Referees have come under increased scrutiny in recent weeks in the wake of a number of controversial decisions. And Poll believes the problem will only be solved when the "clear and tangible issues with refereeing" are addressed.
Liverpool manager Kenny Dalglish has repeatedly talked of conspiracy theories against his side, while Roberto Martinez and Mark Hughes have both complained about sub-standard officiating in recent weeks.
And the issue was brought back into the spotlight on Wednesday night, after Sir Alex Ferguson complained about referee Phil Dowd's performance in Manchester United's 1-0 loss to Wigan. Such criticism has been backed by Poll, who believes a tired and unmotivated list of elite referees - those 16 officials on the FA's select list who oversee all Premier League games, as well as selected Football League matches, every weekend - could have a detrimental effect on the quality of English football.
"There is a clear and tangible issue with refereeing. It is not merely that we see more angles and replays highlighting the errors," Poll told the Daily Mail. "There are not enough officials and promotion to the select group is hard.
"The current list appears weary and lacking motivation - perhaps even complacent and too sure of their positions. The League Managers' Association and Professional Footballers' Association should be asked for more input, using their experience to help and support, rather than criticise and undermine.
"We have some great referees, but we need to ensure they perform to the best of their abilities."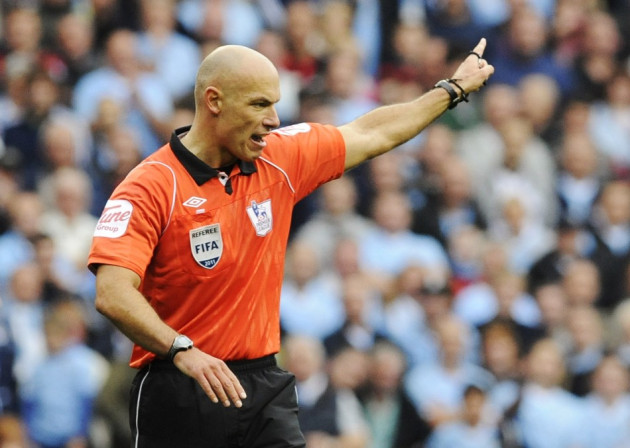 On Sunday, QPR's Shaun Derry was harshly sent off for fouling Ashley Young, after the Manchester United winger was allowed to run through from an offside position. And Arsenal's Alex Song was fortunate to escape serious injury when Mario Balotelli's reckless challenge caught him just below the knee.
But Poll cautioned that such events were not isolated affairs. Indeed, Mike Riley, the referee's chief, was obliged to issue Wigan manager Roberto Martinez with his third apology of the season after two clearly offside goals for Chelsea at Stamford Bridge. Such incidents are only likely to become more commonplace, Poll warned, if the FA continued to underinvest in fitness and training programs for the league's officials.
"There are currently only 16 referees on the select list after Stuart Attwell was demoted and Peter Walton retired. That is not enough," said Poll.
"They have to referee all 10 Premier League games, act as fourth officials and are appointed to selected Football League games every weekend. Seven of the 16 are international referees, travelling to an average of eight UEFA matches per season.
"Howard Webb, the No 1 official, has refereed 42 games already this season and been fourth official at many others."
Webb will officiate in Saturday's FA Cup semi-final between Everton and Liverpool, a decision that has been criticised by Kenny Dalglish who described recent decisions against his side as "inexcusable" and "unexplainable."
The Scot was particularly angered by referee Michael Oliver's refusal to award Dirk Kuyt a penalty in the 1-1 draw at home to Aston Villa earlier this month. The young referee has attracted controversy in the past and Poll believes the "bright young prospect" must be nurtured correctly to avoid further mistakes in the future.
"He [Oliver] erred in not awarding Fulham that penalty [against Manchester United] at Old Trafford, then had to officiate at Peterborough later that week and at Liverpool and Tottenham over Easter - missing penalties in both games," added Poll. "There is a clear training and development need which appears to be ignored as the PGMOL (Professional Game Match Officials Ltd) need him out doing games."