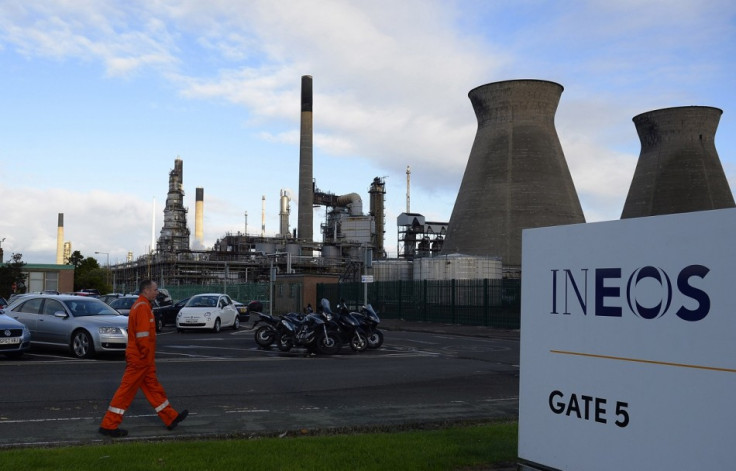 Petroplus Holdings AG (Switzerland) was, not so long ago, Europe's largest independent refiner. In January 2012, the company defaulted on its senior notes and filed for bankruptcy. In the UK, its centre of operations was the Coryton Refinery in Essex which it had bought from BP in 2007 and which was able to handle tankers up to 250,000 deadweight tons (dwt). The refinery had a capacity of 11 million tonnes per year and had been running at about 88 per cent capacity shortly before its demise.
Five hundred people were employed at the site along with a further 300 contractors and by late May 2012, the administrators, PricewaterhouseCoopers(PwC) had failed to find any buyer. PwC did not see any possibility of raising the £625 million needed to keep the facility operational and so they made the announcement that Coryton, which supplied roughly 20 per cent of the fuel used in London and the South East, would close in three months.
A PwC official told the media:
"The current financing market is exceptionally difficult - capital is short and expensive.
"Prospective investors in the refinery faced a significant capital expenditure need, as well as a fragile market for refined products..."
Sorely missed then?
No sooner had the announcement by PwC been made than a Department of Energy and Climate Change spokesperson assured the public that any closure would not affect fuel supplies:
"Closure of the refinery reflects overcapacity in the European refining sector and...a number of refineries have closed across Europe in recent years".
Aside from the unfortunate people who lost their jobs, the closure of Coryton went virtually unnoticed. Although the Ineos Petrochemical plant and Refinery in Grangemouth which was saved from a similar fate on 25 October 2013, has its own peculiar saga to learn from, the Unite Union which represented much of the workforce in both operations, appear to have failed to appreciate that the market forces had changed so very little and totally misjudged the strength of their well-prepared adversary who clearly anticipated the Union's actions.
Ineos is not exactly a household name despite being a giant in its field. The company was formed in 1998 with the purchase of an ethylene oxide plant in Antwerp by Mr Jim Ratcliffe, still the private company's dominant shareholder and, until this latest spat, its virtually unknown CEO. During 2010, Mr Ratcliffe moved the company's headquarters to Rolle, a small village on the shores of Lake Geneva, Switzerland.
Over several years after the Antwerp purchase, Mr Ratcliffe expanded Ineos buying other similar companies making the firm in recent times one of the world's top-five chemical companies. Generally, Mr Ratcliffe bought subsidiaries of, or parts of larger corporate giants put up for sale as these organisations, such as Dow Chemical, ICI and BP, streamlined their core businesses. This gave Ineos a broad geographical spread with particular strength in Western Europe and North America and the company now operates 15 stand-alone entities in 50 locations worldwide. Ineos has also entered into joint ventures since 2011, with the likes of PetroChina and the Solvay Group of Belgium.
The company purchased the Grangemouth Refinery and separate but linked petrochemical complex from BP in 2005. Combined, this makes up the largest industrial centre in Scotland and Grangemouth Refinery produces most of the fuel used in Scotland (Population 5.3 million) as well as to Northern England and Northern Ireland. Its importance to the Scottish economy goes without saying and The Economist on 26 October made the point abundantly clear:
"...(The Scottish Government) reckons that the petrochemical factory adds about £1 billion a year to the Scottish economy. The knock-on effect of lost work to the complex's suppliers and customers, which include other Scottish chemical firms, would mean further job losses and economic damage.
"Grangemouth produces a big chunk of Scottish exports of refined petroleum and chemicals, which are reckoned to account for £3.7 billion of the country's total foreign exports of £23.9 billion in 2011. A shutdown would undermine belief in Scotland's ability to pay its way in the world..."
It has been predicted that if the refinery/petrochemical complex were to close, Scotland's Gross Domestic Product (GDP) would fall by about two per cent.
In 2011, the Grangemouth Refinery along with Ineos's refinery near Marseilles, France, established a 50:50 joint venture with PetroChina, a separately listed division of the state-owned China National Petroleum Corporation. Both refineries process about 210,000 barrels of crude oil per day, so similar in size to Coryton, and both sites are integrated into the company's downstream petrochemical production facilities.
Jim Ratcliffe on 31 January 2011, issued a statement shortly prior to the conclusion of the deal, saying:
"This offer is an important step on the way to forming a strategic partnership with PetroChina. It allows us to remain fully committed to our refining business as well as presenting an opportunity to further develop our interests in China and beyond".
PetroChina's "irrevocable offer" to Ineos was $1.015 billion - in cash - for the 50 per cent stake in the firm's European refining business and it has been suggested that one reason for Mr Ratcliffe's playing hardball during this latest dispute, is that the Chinese are dissatisfied at the poor return to date, on their investment.
A billion dollars in cash is a strong incentive for any company to form a new partnership but was there also a need? Whilst formerly, Ineos's worldwide market reach would have been considered a strength, since the economic downturn of 2007-2008, the chemicals industry has witnessed a big contraction, closures of plants in every continent, and much increased competition between the survivors.
In an attempt to assuage the harsher market conditions after the onset of recession in the developed world after 2007, Ineos embarked on several cost cutting measures. One such, at the Grangemouth complex at least, involved the closure of the company's final salary pension scheme to new employees. This resulted in strike action being taken by Unite which closed the plant for a few days and caused severe disruption to the UK's North Sea oil supplies and Scotland's, in particular, broader fuel and energy provisions. The firm reckoned the cost at £150 million.
Although there was nothing comparable until the latest dispute over Unite's Union Convenor, Stephen Deans, being suspended by the company for carrying on his campaigning and work for the local Labour Party in company time and using company resources in the late summer this year, it is safe to assume that the relationship between the Union (which represents about 70 per cent of the non-contracted workforce) and Ineos has not been too cordial.
When the company refused to lift the suspension, Unite imposed an overtime ban and set a 48-hour strike date for 20 October.
Ineos had already made clear that Grangemouth had been losing £10 million a month for years and would close in 2017 without substantial investment and cost cutting measures being taken. In answer to the strike threat and other actions by the Union, the company, whilst continuing talks with Unite, started shutting down parts of the plant.
On 16 October, according to the Press and Journal's "Energy Voice", Ineos had agreed to restart all plants as soon as possible provided the Union agreed not to take any further industrial action before the end of March 2014. Unite refused, offering only to limit such action to 24 hours in any month during this time period.
A spokesperson for Ineos told the Press and Journal:
"This was not acceptable...due to the significant safety risk of having to shut down and restart plants multiple times.
"Ineos had asked the Union to stop the wave of protest actions against Ineos's customers, suppliers and financial lenders. The Union had refused".
Shortly afterwards, the company put forward a deal directly to the workforce with conditions for keeping the plant open, including a pay freeze, end of final salary pensions and a no-strike clause. The workforce was warned that if the deal was rejected then the Grangemouth petrochemical plant would close with immediate effect. Few would expect the refinery in such circumstances to last very long.
With a two-thirds majority the Union rejected the deal and their subsequent acceptance when the company went ahead with its threat to close the plant has seriously damaged Unite's credibility. It also reflects an alarming lack of judgement on the leadership's part as to what the proper role of a union is today in a world much changed and much more open than during the union's heyday between the 1960s and mid-1980s.
Some in the union are reasoning that their error was in challenging a billionaire who could afford to close one of his fifty sites worldwide. Yet some of the workers appear to be more astute than their union leaders.
Malcolm McGregor told Scotland's Daily Record on 25 October:
"...I had a very strong feeling that the offer made by Ineos was a genuine one, based on market conditions, and I believed we would have been better off accepting it...
"I didn't think they were messing around and I didn't think they were leaving any room for negotiation.
"I believe the survival plan was probably necessary to secure the petrochemical plant's future."
Malcolm and many others in Grangemouth know that their jobs , in most respects now, are determined by international market forces, beyond the control of the very worried Scottish Government in Edinburgh or its much larger counterpart at Westminster. The former gave Ineos a £9 million grant and the latter loan guarantees for over £100 million so that facilities can be constructed to process "cheap", and fracked, oil shale gas imported at Grangemouth from the USA.
The Socialist (reads more like a communist journal) on 30 October advocated the rising up of the workers and the occupation of the whole Grangemouth complex and the plant to be immediately nationalised. Only in an autarchy can a private entity be nationalised without compensation but that is exactly what we would have if our comrades at The Socialist had their way.
More importantly, the Labour Party in particular needs to look closely at Unite, its Union Convenor Stephen Deans and the actions of both in the Grangemouth dispute. Certainly former Cabinet Minister Jack straw seems to think that very serious issues require an answer.
BBC News on 29October reported that former Cabinet Minister Jack straw is calling for a new enquiry into the Falkirk vote-rigging issue (which implicated Mr Deans) and accused the Union of adopting "catastrophic tactics" in the industrial dispute at Grangemouth:
"Whichever way you look at what happened at Grangemouth, it's hard to see how on earth the Unite Union ended up with those tactics.
"Is there something of concern there? Of course there is. And is it a saga that does not reflect well on the national leadership of Unite - both in respect of their relations with the Labour Party but also in respect of their representation of their members at a huge plant like Grangemouth? Yes."
Not forgetting Unite's "leveraging" tactics, otherwise known as intimidating the managers and families of Ineos by sending gangs of up to 30 Unite protesters to their homes. Condemned by Prime Minister David Cameron on 31 October and what appeared a half-hearted condemnation by Labour's Ed Milliband, Unite's leadership defiantly defended the actions (now ceased) as "...legitimate in the context of an industrial dispute."
Maybe this Union is in some 1970s time warp and has learnt nothing since.