Greece elections: France's far-right Marine Le Pen backs radical left Syriza in anti-EU populist union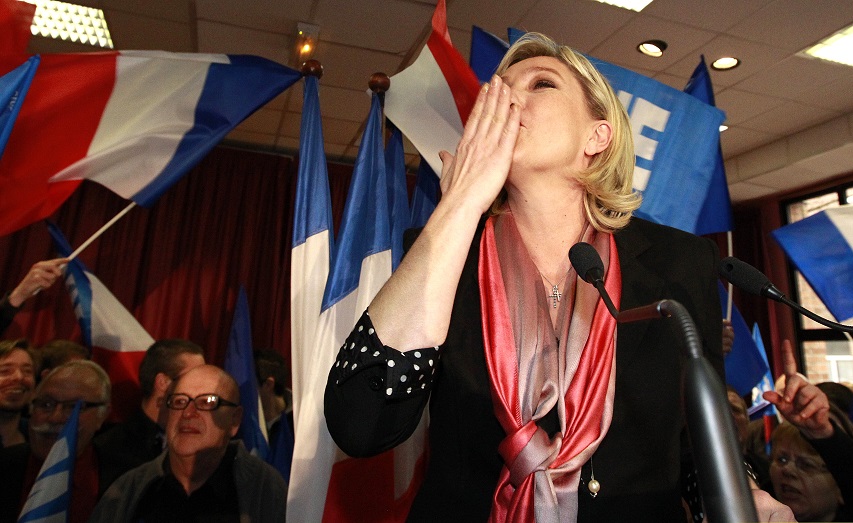 France's far-right leader Marine Le Pen said she hopes the radical left will win elections in Greece at the weekend, for its success could deliver a huge blow to the Eurozone.
The 46-year-old presidential hopeful adapted to politics the proverb 'the enemy of my enemy is my friend', as she told Le Monde she is cheering for Syriza and its charismatic leader, Alexis Tsipras, as Greece faces a snap election that could shape the future of the European Union.
Le Pen denied there was a lack of coherence in her Front National (FN) backing a party at the opposite end of the political spectrum led by a former communist youth activist.
"I'm completely coherent," she said. "This [support] doesn't make me an extreme-left militant."
"We do not agree with their entire manifesto, in particular for what concerns immigration, but we would be delighted by their victory," Le Pen added.
The populist leader said that the apparently antipodal ideologies of FN and Syriza have a common ground in their fight against "EU totalitarianism and its accomplices, the financial markets."
Syriza, which some polls suggest is now the most popular party in Greece, is not directly advocating a Greek exit from the EU.
The anti-establishment party is however a strong critic of austerity measures imposed by an EU-IMF plan as part of a loan package to rescue the country from the brink of bankruptcy.
Tsipras argues the loan terms are far too punishing and ought to be renegotiated and has promised to make public investments and increase government spending.
Political uncertainty related to a possible Syriza victory could result in a forced exit of Greece from the Eurozone, according to some analysts. Such scenario would open a crack in the EU unity, triggering a crisis welcomed by Eurosceptic parties across the continent, including FN.
However that is not the only reason for Le Pen to publicly back Syriza.
Le Monde suggested it was a strategic move that allowed her to distance FN from its natural and uncomfortable Greek counterpart, the neo-Nazi Golden Dawn party.
Since taking the reins of the FN from her father in 2011, Le Pen has been working hard to clean up its longstanding image of a racist, anti-Semitic and chauvinistic party.
She has successfully reset FN as an anti-immigration and anti-EU platform, broadening its appeal while also keeping its old electorate.
"The more the confusion the more it is difficult to return FN to what it fundamentally is, an extreme right party," the newspaper wrote.
© Copyright IBTimes 2023. All rights reserved.