France's Front National to Sue Justice Minister Christiane Taubira over Monkey Slur Racism Accusation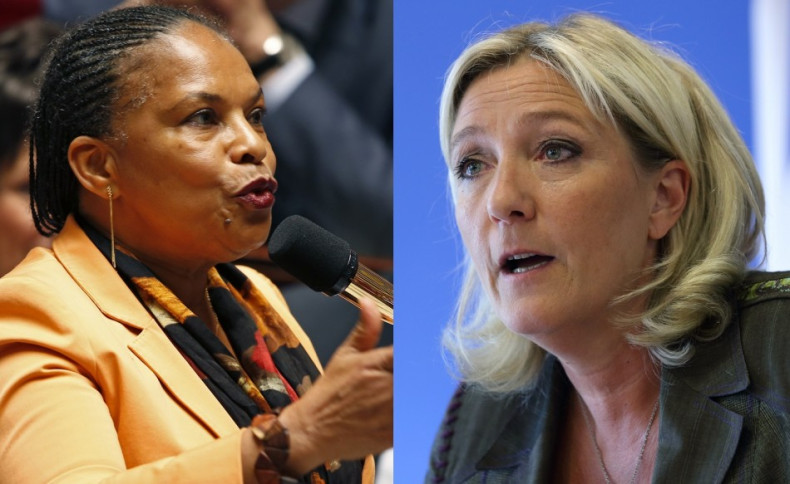 France's Front National (FN) party is to sue Justice Minister Christiane Taubira over outraged remarks she made after she was compared to an ape by a party member.
Taubira described Marine le Pen's far-right party as racist, anti-Semitic and homophobic, after an FN mayoral candidate posted on social media a split picture showing the minister on one side and a baby monkey on the other.
"We know what the FN thinks: the blacks in the branches of trees, Arabs in the sea, homosexuals in the Seine, Jews in the ovens and so on," Taubira said, describing the party's policies as "deadly and murderous".
The Front National replied calling for Taubira to resign and threatening her with legal action.
"Nothing justifies such an expression of hate against an entire party and its millions of voters," FN said.
"Front National will thus take legal action against Ms Taubira to have the rules of a democratic and republican debate enforced and the honour of millions of French voters respected."
The controversy erupted last week as Anne-Sophie Lecler, FN's 33-year-old mayoral candidate in the small Ardennes city of Rethe, posted the racist split picture on her Facebook page with a caption that read: "18 months" and "now".
Lecler claimed that the photo montage was not racist, but she ultimately preferred to see Taubira "on a tree among the branches than in the government."
"The monkey in the picture remains an animal, the Black [woman] is a human being. I have friends who are Black and that's not a reason to tell them that they are monkeys," she told the France 2 channel.
Nevertheless FN suspended her and dropped her candidature as mayor.
Support for FN, which advocates tighter immigration policies and economic protectionism, surged recently.
Earlier this month, the FN took the lead in an opinion poll for the first time since Le Pen's father Jean-Marie founded the party in 1973, scoring 24% of preferences.
Since taking the reins in 2011, Le Pen has been working hard to clean up FN's longstanding image of a racist and anti-Semitic movement.
The 45-year-old lawyer has recently threatened to sue media describing FN as "extreme right".