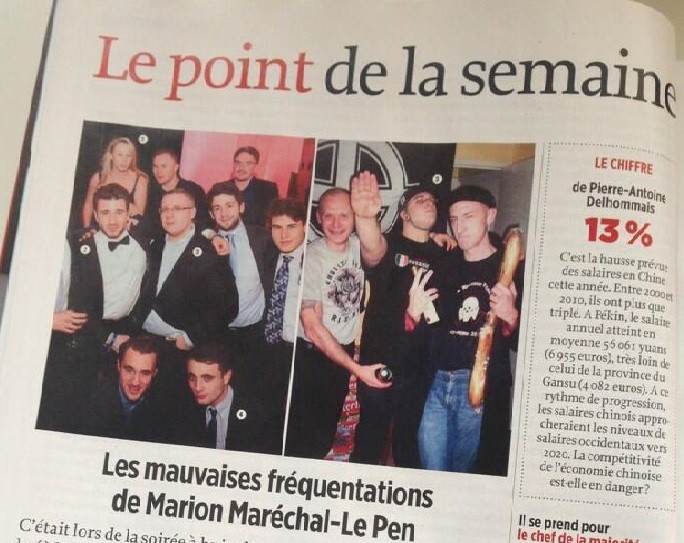 A picture depicting French MP Marion Maréchal-Le Pen, the niece of Front National (FN) party leader Marine Le Pen, posing with alleged neo-Nazis has triggered a political row in France.
The group photo, above left, which was published by French weekly Le Point, shows Maréchal-Le Pen, 23, sitting with Edouard Klein, the leader of far-right student union GUD, and Baptiste Coquelle, who the magazine describes as a member of the skinhead movement.
In another picture published by the weekly Coquelle, wearing a SS-style helmet, makes a Nazi salute in front of a Celtic cross flag.
Maréchal-Le Pen holds one of the two parliamentary seats won at June 2012 legislative elections by FN, the extreme right-wing party founded by her grandfather Jean-Marie Le Pen in the '70s.
The controversial photo was taken during private celebrations for FN's 40th anniversary at a Paris conference centre in December and is likely to hamper FN efforts to appeal to a wider audience by distancing itself from extremist groups.
"Since my election, I'm regularly photographed and just like other public figures, I don't have means to make sure that those posing with me aren't tax evaders, fugitives from justice, criminals or extremists," Maréchal-Le Pen wrote on her website.
"I believe that those advocating a totalitarian regime that brought France down on its knees are everything but patriots and should have no place in our movement."
As the photos emerged, Marine Le Pen swiftly announced that Coquelle has been expelled from the party.
Under Jean-Marie Le Pen's leadership, FN was often marginalised for its extremist views on immigration and its anti-Semitic and chauvinistic philosophy.
Since his youngest daughter Marine, 44, took the reins of the party in 2011, FN has embarked on a more moderate course, starting what French media has called a process of decontamination.
Maréchal-Le Pen said the publication of the photo was an attempt to distract media attention form the tax-dodging scandal that has struck French president Francois Hollande.
"It's somehow surprising that a photo taken in December suddenly emerges when the government is facing a deep moral crisis in the wake of the Cahuzac scandal," Maréchal-Le Pen wrote.
Former budget Minster Cahuzac, a vocal crusader against overseas tax havens, resigned over allegations that he had held €600,000 (£510,000) for decades in Swiss bank accounts, in March.