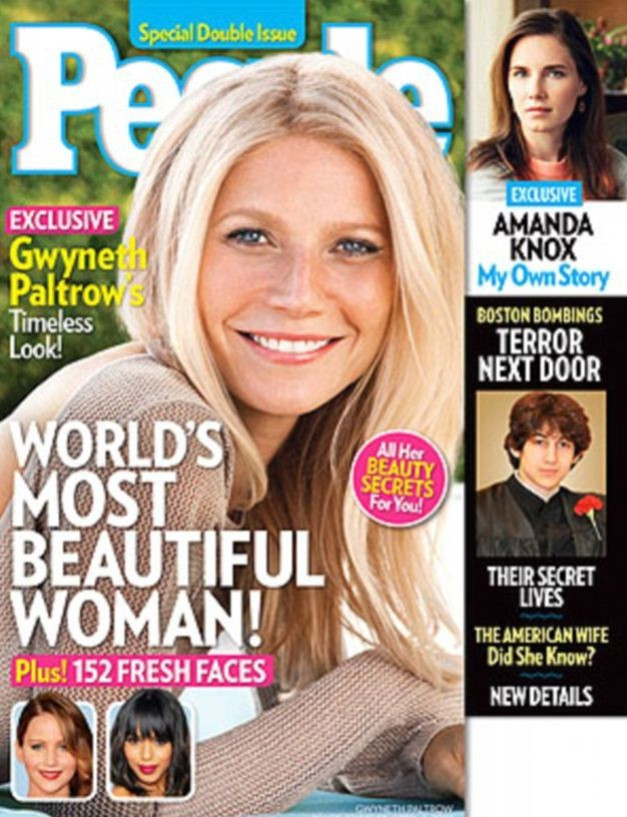 Gwyneth Paltrow has been named People magazine's World's Most Beautiful Woman for 2013.
Tthe 40-year-old actress who is married to Coldplay singer Chris Martin, admits that she likes being natural and without-makeup most of the time.
"Around the house, I'm in jeans and a T-shirt. I don't really wear makeup. That's what they're used to," Paltrow told the magazine, "He'll make a joke about it. If I've gotten fully dressed up, he'll be like, 'Oh, wow! You're Gwyneth Paltrow!' Because he's used to seeing me in like baggy shorts and frizzy hair."
The Iron Man actress, known for her health-conscious lifestyle, follows a five-day-a-week workout routine for keeping her in shape.
"It makes me look younger and feel strong," Paltrow said, "When I first started, I thought, 'I'll never be good at this. This is a nightmare!' But now it's like brushing my teeth, I just do it."
Paltrow, who is also the founder of lifestyle and clothing website Goop.com, says she wants to establish a good body image on both of her children, especially her eight-year-old daughter, Apple.
"When we're home sometimes, she'll put on mascara. And sometimes I'll let her wear something out to dinner - but just a little dab," she added, "Also having a father who adores you the way that he adores her is very good for your body image. The more we can love her and let her be who she is, the more confident she'll feel."
Paltrow's latest title comes just after she was named Hollywood's Most Hated Celebrity by Star magazine.
Meanwhile, Django Unchained star Kerry Washington made it to the second spot and was closely followed by actress Amanda Seyfried. Oscar-winner Jennifer Lawrence was at sixth place.
Scroll down to take a look at the beautiful ladies who made it to the list...