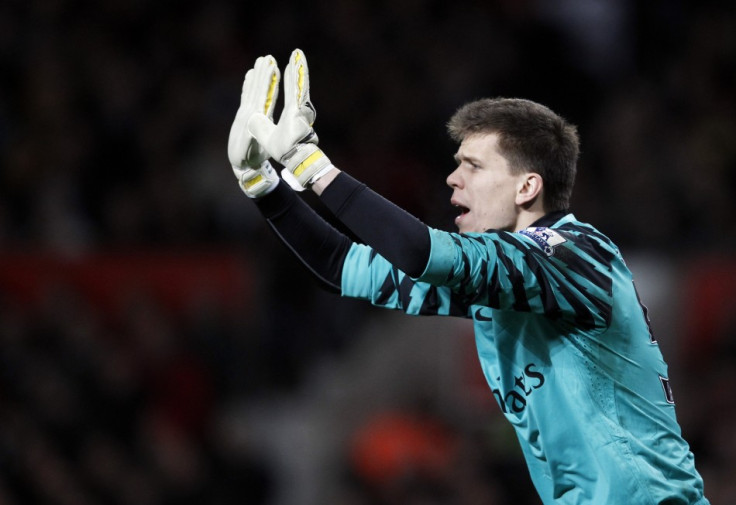 Arsenal legend Bob Wilson believes Wojciech Szczesny is as valuable to Arsene Wenger's side as Robin Van Persie.
The young Pole has established himself as Arsenal's undisputed first choice goalkeeper in the last 12-months and Wilson believes the Gunners have finally found a solution to their previously problematic position.
Despite Van Persie's hugely prolific spell for club and country, Wilson believes Szczesny's form has made him invaluable to Arsenal boss Arsene Wenger and as central to their future as the aforementioned Dutchman.
The Arsenal legend believes all the top teams tend to be judged on the ability of their goalkeeper, intimating any side with trophy winning ambitions need to have a consistent and quality custodian.
"He becomes as valuable in a way as Robin van Persie," Wilson told the Independent, "and in some ways more valuable. Because any side that's going to win things needs a solid spine.
"And it's fair to say that any side that wins the title, you will generally say their goalkeeper has been the most consistent keeper in that season.
Wilson suggests the Polish international has the perfect temperament for a goalkeeper, in that he is never unfazed by personal mistakes.
The Highbury hero continued: "There's not a vulnerability or a shyness about him,
"Great goalkeepers have that: David Seaman had that. Jens Lehmann had that. For all his match-day strangeness - they called him 'Mad Jens' - he wasn't mad at all, he was a very, very intelligent boy. But he was the boss.
"His reaction to setbacks is calm, collected, and back to the belief."
Although Wilson was reluctant to criticise Szczesny's potential rivals for the Arsenal number one jersey, he suggested the Pole had already displayed the necessary skills that perhaps were lacking from Manuel Almunia and Lukasz Fabianski.
"Everybody knows that he's already won the crowd over. I hate talking against the other two guys, Manuel [Almunia] and Lukasz [Fabianski]. But you know that with this boy there's something different."