India: The Child Labour Dampener on Diwali Fireworks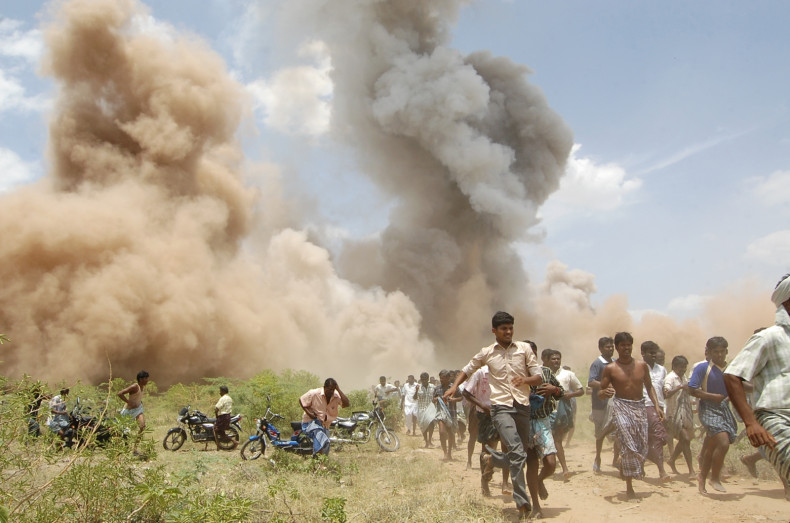 Come Diwali, and attention is once again turned to Sivakasi in an annual acknowledgement of a malaise that refuses to go away.
A hub of the fireworks industry, believed by some to be second only to Liuyang, the Chinese fireworks city, Sivakasi in southern India's Tamil Nadu state with its 800 odd fireworks units, is synonymous with child labour, a reputation it finds difficult to shake off.
Ideally suited for fireworks manufacture thanks to a dry climate and low rainfall, Sivakasi caught the public eye when activists exposed the rampant child labour employed in its factories.
Government intervention through a child labour project that weans children away from the hazardous setting, and into pursuing education has set the tone for Sivakasi achieving the distinction of becoming a 'zero' child labour industrial cluster in the state, say officials.
Government claims
The local corporator claims children now do not constitute even 1% of the total workforce.
The Tamil Nadu Fireworks and Amorces Association has in fact challenged Nobel laureate Kailash Satyarthi, to prove his claim that the cracker industry still employs over 100,000 child labourers.
There has been no child labour in Sivakasi since 1982, said the association president.
Is this a case of sweeping the dust under the carpet?
Rajagopalan, director of the Nether's Economic and Educational Development Society, working in the region since 2002, told DNA that children are now employed at home-based factories.
"Four months back, I went on a survey ... and found 40 children in about 4-5 units in Virudhnagar," he said. "How will the district administration take action against homemade units? Manufacturers hide children in rooms in villages."
Rakesh Senger of the Satyarthi's Bachpan Bachao Andolan said that in many factories children as small as five mix sodium and nitrate with their own hands.
Claiming the problem is widespread in child labour in cracker units in Uttar Pradesh, Andhra Pradesh, Orissa, Chattisgarh, Jaipur and Assam, he declared that there was "no cracker unit in this country that does not employ children." And this is despite legislation such as the Child Labour (Prohibition and Regulation) Act of 1986.
Hazardous job
Children have been employed in the largely cottage industry to fill gun powder into fireworks and sparklers and are directly in contact with the chemical ingredients with no gloves or protective equipment.
Their hands are scalded with the skin exposed to the sulphur, aluminium powder and gun powder. A 2013 National Child for Protection of Child Rights (NCPCR) report alleged the children were affected psychologically too.
A lack of safety norms and lax inspection has seen over 237 people lose their lives in accidents at the factories in Sivakasi, with a sizeable number being children.
Way back in the 90s a UN study had said that there were 30,000 people employed in the match industry and 3,000 people employed in the fireworks industry in Sivakasi; all in between the age of 6-14.
While the numbers have come down, they refuse to die down.
In 1940, when the Indian Explosives Rules was enacted and licensing introduced for the production of fireworks, Sivakasi set up its first unit.
Today, the industry is estimated to be around 20bn rupees (£202m) and employs about 400,000 people directly and indirectly, reports Business Standard. It produces 70-90% of the country's fireworks.
Some of the bigger companies are giving a major thrust to mechanisation and finding it safer and more economical. The smaller ones still rely on nimble hands.
While the manufacturers' association alleges that the NGOs are bought by foreign aid, the activists claim that child labour in Sivakasi has simply been hidden in the closet.
In deciding the truth, the public plays an important role – in deciding to buy fireworks that have not been made using child labour.
Labelling is still to take off in a big way.
Meanwhile, more awareness needs to be built among Indian buyers of fireworks, a vast majority of who still look for the cheaper option in buying their Diwali fireworks.
Playing with dangerous stuff
Firecrackers use charcoal, sulfur and potassium nitrate with aluminium instead of or in addition to charcoal in order to brighten the explosion.
Sparklers use oxidisers like potassium nitrate. The fuel is charcoal and sulfur, with a binder which can be sugar or starch. Aluminium, iron, steel, zinc or magnesium dust is added to create bright, shimmering sparks.
Fireworks generate a variety of air pollutants, like carbon monoxide, sulfur dioxide and nitrogen oxide, in addition to aerosols or particulate matter that worsens lung conditions like asthma.
Research has shown high levels of particulate material during festive seasons when fireworks are used.