"Roses are red, bacon is red, poems are hard…bacon." That is, of course, according to the quite pathetic attempt at rhyming couplets you may have spotted on your social media feeds as of late. Well, today (5 September) you may be more likely to receive that than usual as today is International Bacon Day, so IBTimes UK thought it would bring you our top ten bacon-based products that you should welcome with open bottles of HP sauce.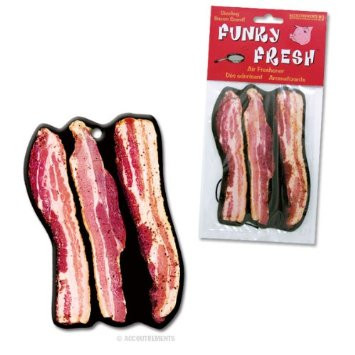 1. Bacon air freshener
For those of you who like that in car interior smell, but would like to combine it with that breakfast staple meat product, there's this particular (and peculiar) item available from all good online stockists.
2. Bacon toothpaste
Can't wait for that bacon fix in the morning? Well, before you even think of firing up that frying pan you may be able to stave off the cravings by giving your teeth a good brush with bacon flavoured toothpaste. Still not enough, well you can even compliment this with a good scrub with bacon soap. The morning routine will never be the same again.
3. Bacon condoms
With the somewhat unsubtle tagline "make your meat look like meat" these contraceptives were introduced to the market in 2013 by Seattle-based company JD Foods. Priced on launch at $9.99 (£6.60) the product claimed to be a world-first.
4. Bacon soda
Although many were looking forward to tasting the bizarre concept of bacon flavoured Diet Coke, the image that appeared on the internet as far back as 2012 turned out to be an elaborate hoax. However, this is not to say that bacon flavoured soft drinks have not existed before or since with carbonated bacon flavoured drinks available through the website Bacon Freak.
5. Bacon tea
Like its fellow site mate, bacon tea is also available on the Bacon Freak website infused with the unmistakable taste of maple bacon. There is also a coffee variety to give you a double hit of caffeine and bacon in the morning.
6. Bacon jam
For those of you who don't want to trawl through the internet to get your favourite pork hit, there is bacon flavoured jam to satisfy that craving. The Eat 17 product is available for a very reasonable $4.50 (£2.99) from upmarket retailer Waitrose.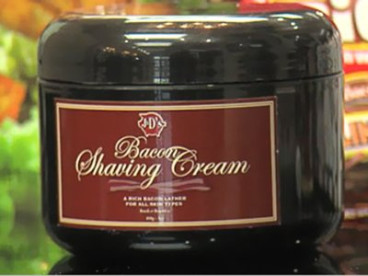 7. Bacon shaving cream
Available through the aptly-named Stupid.com the description for this particular product asks if you have ever wanted to rub your face with "a heaping pile of delicious, greasy bacon". For $11.95 (£7.89), thanks for the offer, but I think we'll pass.
8. Bakon vodka
From the (slightly) warped minds of Black Rock Spirits in Seattle US comes Bakon Vodka "captures the meaty, peppery flavour of just-cooked bacon" and is supposed to be the ideal spirit to go with your Bloody Mary mix.
9. Baconnaise
A spin on normal Mayonnaise, Baconnaise is obviously for those who can't quite hear their arteries hardening enough. The product bills itself as the "Ultimate Bacon Flavoured Spread" and can be used as a sandwich spread, a dip or on salads – if you dare.
10. BaconAir
Surely the most outlandish product on this list, the BaconAir aerosol makes sure you are never without your favourite bacon-based hit. Although the truth is, if you are that attached to that smoky meaty smell, it's probably advisable that you consult your local physician.