Isis claims responsibility for South Korean and Moroccan embassy attacks in Tripoli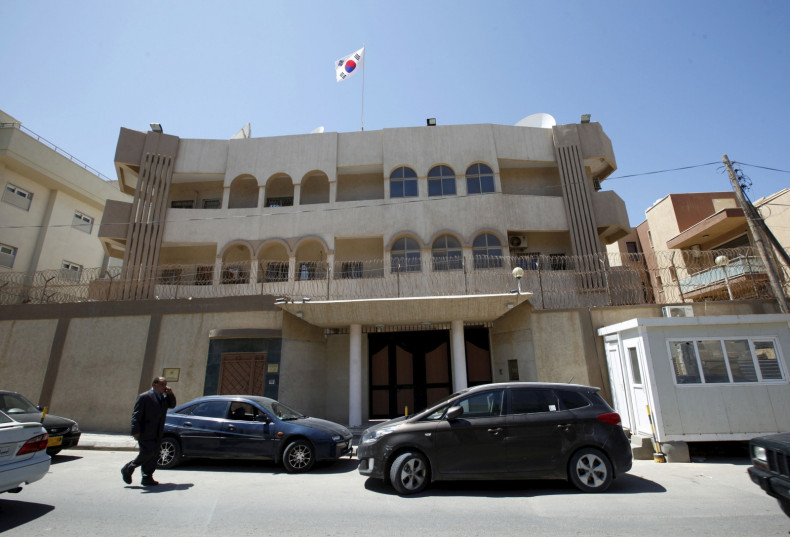 A bomb blast targeted the Moroccan embassy in the Libyan capital Tripoli hours after a gun attack at the South Korean diplomatic post in the city which left two people dead. The Islamic State (Isis) has claimed responsibility for both the attacks.
The early morning explosion outside the Moroccan embassy on Monday, 13 April, caused damage to buildings. No casualties have been reported.
Though it is still unclear whether the bombing was carried out by IS militants, multiple social media accounts belonging to the Islamist group claimed the assailants represent the Sunni extremist group.
Fortunately the Moroccan embassy was closed time of the blast. A witness told AFP that the explosion was "very strong, and the house was shaking for a few seconds".
These are the latest in a string of Islamist attacks orchestrated by IS militants aimed at foreign interests in the conflict-ravaged North African nation.
Condemning the attacks, the US State Department said: "The growing threat of terrorism in Libya is of grave concern to the international community. Extremists use the lack of order to their advantage, causing further suffering and bloodshed both inside and outside Libya."
"We urge the parties to the UN-facilitated dialogue to come together and form a united front both to confront terrorists and to address the root of the problem in a coherent manner, including by offering a vision of a peaceful, stable, and prosperous Libya and by providing essential services to the Libyan people."
Meanwhile, South Korean authorities are meeting to discuss emergency security measures for 30 South Korean nationals still in Libya.