British electronic dance music duo Basement Jaxx have released a new music video that features Japanese scientists creating TW3RK-BOT 1.0, a new type of robot that specialises in twerking.
The video for Felix Buxton and Simon Ratcliffe's new single "Never Say Never" parodies the futuristic robotics technology coming out of Japan, such as inventor Nobuhiro Takahashi's SHIRI robot butt and Hiroshi Ishiguro's new humanoid robots at the Miraikan.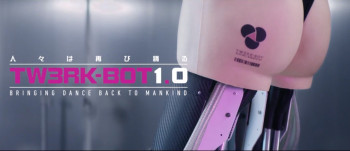 A laboratory of Japanese scientists work to develop a robot that can emulate a human dancing and twerking, by scanning the movments of twerking dancers into a computer and a making silicone cast of a perfect human derriere.
Speaking in Japanese, the video says: "Without dance there is no love. Without love there is no passion. Without passion there are no humans. 72% have stopped partaking in the art of dancing. And in 15 years, 98% of us will cease to dance."
The Jaxx Industries' TW3RK-BOT 1.0 invention features buttocks and a nice pair of legs, and claims to include Bluetooth 4.0, Wi-Fi, USB 4.0, "zero-degree cooling" and "self-lubricating buttocks". In the video, the robot apparently retails for 99,000 yen (£572, $972) and is sold on Amazon.
While we're not sure how a twerking robot will help to get more people to dance, it's an interesting concept and a sign of the trend of inventing robots today.
The new Basement Jaxx album Junto is out on 25 August.