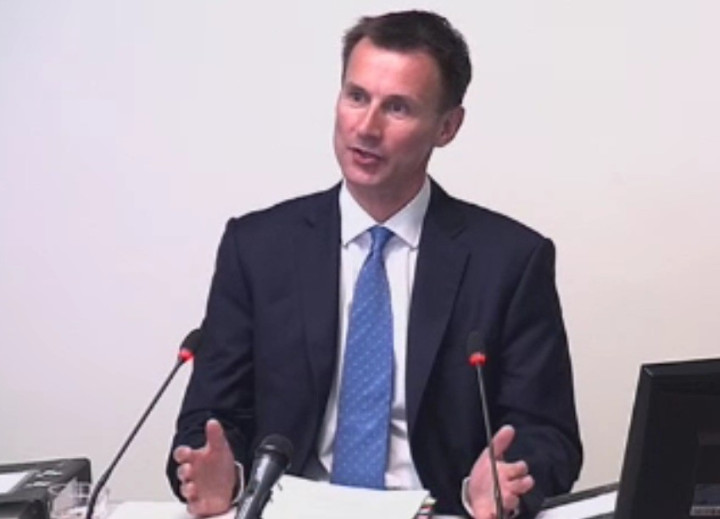 Culture cecretary Jeremy Hunt's time in front of the Leveson Inquiry saw him paint a picture of his department fending off the "extarordinary" advances of News Corporation amid the company's attempt to take over BSkyB.
Hunt planned to clear his name at the inquiry, after the release of emails between his aide Adam Smith and News Corps' Frederic Michel appeared to show a back channel being opened to the company during the bid process.
Questioned as to his apparent support for the bid, as well as how far Smith spoke for him when he communicated with Michel, Hunt laid the blame at his aide's door, claiming he crumbled under a "barrage" of contact from Michel.
He said: "I wish he had told us the pressure he was under and the barrage he was getting". He added that he felt sorry for Smith.
"The way I interpret [the emails] is Smith is trying to get Michel off his back. What he hasn't done as far as I can tell is ever go back and agitate for the thing that Michel is putting him under pressure to achieve.
"He doesn't come to me, he just bats it back. When at a later stage Michel made a threat that news Corp would walk away from the deal, Smith doesn't even contact me. He just sends a text straight back saying thats up to you.
"This is someone trying very hard to keep a stakeholder on board with the process under huge pressure and occasionally lapsing into inappropriate language."
However, Hunt drew the line at admitting any tangible assistance being given to the bid by Smith.
He added: "My feeling is that Adam Smith is the most decent, straight, honourable person that you could imagine, yet even he was not able to maintain the impartiality that he needed due to the volume of communication and that's where we went wrong."
Text messages between Hunt and Michel also came under focus during the inquiry. Hunt explained the occasional lapses into informality as their wives both gave birth in the same hospital almost on the same day.
Michel sent a message to Hunt on January 20, 2011 saying "good to see you", to which Hunt replied: "Good to see you too. Hope you understand why we've to have the long process. Hope we meet up when things are resolved."
Jay asked whether Hunt's tone was a positive one with regard to the bid's resolution.
Hunt said: "Not at all. I'm just saying that we have a long process and hope he understands why that's necessary."
Hunt went on to explain that the department was not expecting so much contact from News Corporation, with Michel doing whatever he could to maintain contact.
He said: "Flattery is a weapon that Fred Michel tries to employ quite frequently and persistently."
Jay described Michel's constant contact as "flatter par excellence".
Hunt said: "What I didn't expect was the effect of this contact multiplied over and over again on Adam Smith. We didn't forsee that there would be such a problem and it's something to reflect on with regard to bids in future."
Messages sent between Hunt and Smith were also read out in the inquiry, including Smith hailing resignation of former News of the World editor Rebekah Brookes as "about bloody time".
Hunt said he was merely reflecting the viewpoint that Brookes could not lead an investigation into a newspaper from her position in the company.
He staunchly repeated his defence that his lack of preferentail treatment can be seen in the fact that he saught independent advice from Ofcom and OFT on the bid.
Earlier in the day, it was revealed that Hunt had sent a congratulatory message to James Murdoch when the bid was give European assent, hours before Hunt was given the response as overseer of the bid.
Smith's resignation has come under fire from Hunt's rivals in the Labour party, with many claiming he is shielding the culture secretary by taking the blame.
When Smith gave evidence to the inquiry he revealed a lack of awareness over any restrictions put on him with regard to News Corp contact. He said he was given no direction.
Whether Hunt's evidence session at the inquiry has saved his political bacon remains to be seen. Lord Justice Leveson has made it clear that it his not his responsibility to come to a decision on Hunt's role.
Hunt will be investigated by the Parliamentary Standards Commissioner over claims he failed to register donations from media companies.