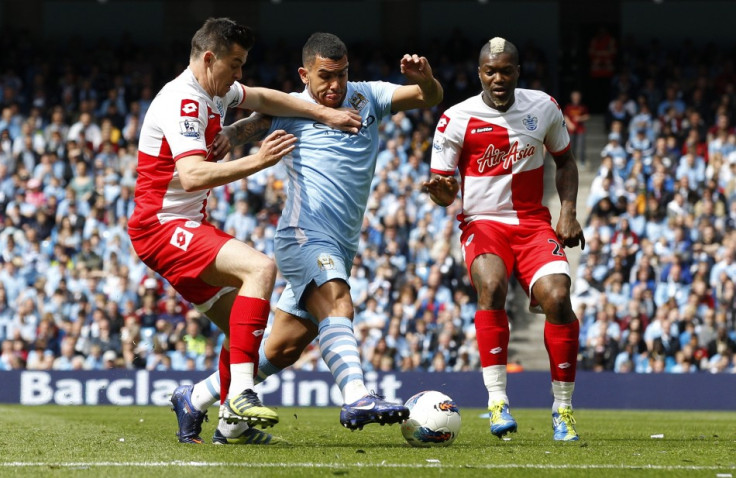 The Football Association have charged QPR midfielder and captain Joey Barton, for two acts of allegedly violent conduct that followed his dismissal from Sunday's game against Manchester City.
The player was shown a straight red card for elbowing City striker Carlos Tevez in the face. However, after the card was shown, Barton appeared to have been involved in two other incidents with Tevez's compatriot, Sergio Agüero, who he kicked, and City captain Vincent Kompany, who he attempted to head-butt. As these latter incidents occurred after the referee's action, they will come directly under the FA's jurisdiction.
"The FA has charged Queens Park Rangers midfielder Joey Barton in relation to two acts of alleged violent conduct during Sunday's match against Manchester City at the Etihad Stadium," read a statement on the FA's web site, which added, "Following the player's dismissal in the 54th minute of the fixture, there followed two incidents involving Manchester City's Sergio Agüero and Vincent Kompany. As Barton had already been dismissed, both of these incidents fell outside of the jurisdiction of the referee. Barton has until 6pm on Tuesday 15 May to respond to the charges."
The QPR man then also had a go at BBC pundit Alan Shearer on Twitter and caused more outrage.
"Shearer's still on my case. I know I f****d up Alan, thanks for stating the obvious... Whilst we're both stating the obvious about each other, can I just say for the record what a great player you were... But I have a better hair (which is not hard), wear well better shirts on TV and have a personality (something u lack)," Barton tweeted, adding, "I really don't like that p***k, in fact I honestly despise him."
Meanwhile, another BBC pundit and former international Gary Lineker criticised Bartons attack on Shearer, tweeting: "Hear Joey Barton had a dig at Shearer. Is this an attempt, I wonder, to deflect from the obvious and deserved criticisms coming his way?"
Barton hit back by tweeting: "No deflections here, mate... So mind ur manners Mr Squeaky Clean... Now back under your stone, you odious little toad."
Barton later apologised to QPR fans for his actions on the pitch and the tweets afterwards.
"Things happen on the pitch, in the heat of battle sometimes. Not how we always plan them to happen ...Right enough about yesterday, I apologise to everyone offended by it. If that's not enough for some, so be it. Life is too short," the 29 year old said.