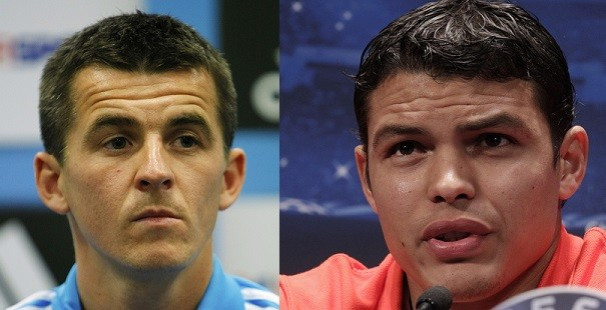 Marseille footballer Joey Barton has been criticised and gagged by his club after he called Paris St Germain defender Thiago Silva "an overweight ladyboy".
In a series of tweets Barton, on loan from Quess Park Rangers, expressed his anger at the Brazilian player for talking about him in a press conference, and asked whether he was "pre-op or post-op".
Ligue 1 leaders Paris St Germain threatened to take action against Barton for what they perceived were "unacceptable remarks" about Silva.
Following the controversy, Marseille have issued a public apology to Silva and his club and ordered the 30-year-old to cease his spat with the defender.
A statement on the club's website read: "Olympique de Marseille and Joey Barton are keen to apologise to Thiago Silva and his club for the inappropriate comments made by the English player on social networks during the past 36 hours.
"This morning, the management asked Joey Barton to put an end to the attack on PSG's Brazilian defender. The Marseille midfielder pledged to immediately cease the posting of anything derogatory about Thiago Silva."
'Can't work it out'
Barton's comments were posted during PSG's Champions League game against Barcelona, which finished 2-2.
During the match, Barton tweeted on his personal Twitter account: "2 questions for Thiago Silva. Firstly, Why are YOU talking about ME, in your press conference before PSG v Barca? Very strange.
"Secondly, Are you Pre-Op or Post-Op? #transsexual #thiagosaladyboy
"Baffles me, which way he's going. Is he a man changing to a woman or a woman changing to a man? Can't work it out."
The press conference Barton referred to came the day before the match at the Parc des Princes, in which Silva described Barton as a Englishman whose name he couldn't remember, adding that: "Because no one is talking about him, it seems it is fun for him to criticise great players for people to know he exists."
Barton's "ladyboy" tweet was also condemned by several organsiations in the LBGT community.
Paris Foot Gay, an amateur club with a large number of gay players who campaign against homophobia in football and society, said the comments were "without doubt based on the stereotype linking Brazil to transsexualism".
The club added: "Paris Foot Gay considers this type of remark to be vulgar, discriminatory and funny to nobody and it should not be tolerated in someone with such a profile. To be a football idol excuses nothing and should, on the contrary, make a player responsible for the impact of their remarks on the public, youngsters especially."
Gay London football club Stonewall FC also criticised Barton on Twitter: The club's official account read: "I hope you realise transphobia is just as bad as racism and homophobia - and you're meant to be a spokesperson for it."