John Galliano in court over race insults claims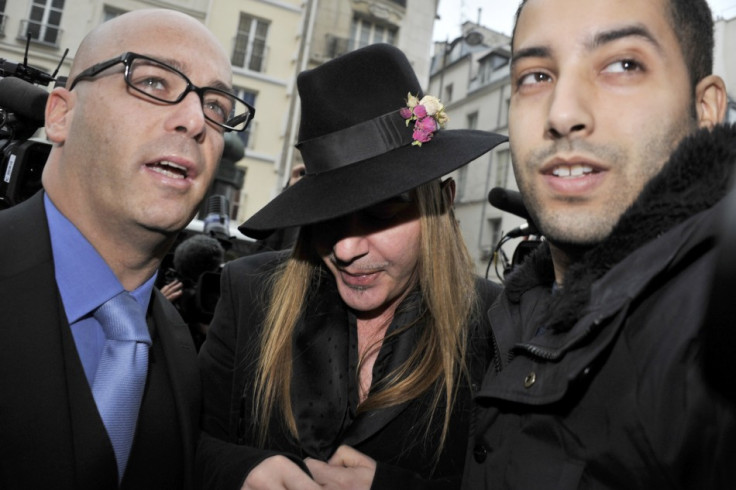 Former Dior designer John Galliano has gone on trial charged with hurling anti-Semitic slurs in a Paris cafe, allegations that shocked the fashion world and cost him his job at the French high-fashion house.
The outspoken British designer emerged for the one-day trial after spending months staying out of the public eye.
In what can only be deemed a conservative look for him, Galliano was dressed in black with a polka dot neckerchief, sporting his trademark pencil moustache and long hair.
The famous designer is charged with "public insults based on origin, religious affiliation, race or ethnicity" and could face up to six months in prison and €22,500 in fines. The verdict is expected at a later date.
Journalists, including fashion writers, packed the wooden benches in the courtroom, as television cameras were not allowed in the courtroom.
A couple contends that Galliano made anti-Semitic comments to them in the cafe in February. The designer was taken in by police for questioning, and a test showed he was drunk at the time. Another woman then came forward with similar claims about another incident in the same cafe last October. Both accusations were being addressed at Wednesday's trial.
Days after the February bar incident, a video was broadcast on the website of the Sun showing an inebriated Galliano insulting a fellow cafe client, slurring "I love Hitler".
His lawyer, Aurelien Hamelle told The Associated Press this week that the designer's comments were "misplaced and hurtful" but attributed them to Galliano's addition to alcohol and prescription drugs.
Galliano issued a statement at the time saying: "Anti-Semitism and racism have no part in our society. I unreservedly apologise for my behaviour in causing any offence." He also said he was "seeking help" for personal failures, spending two months in rehab in the US.
The lawyer said he will call witnesses at the cafe during both incidents who say they did not hear any insults by Galliano are expected to insist the designer was "ill", following months of addiction to both alcohol and strong painkillers.
Any conviction could depend on whether the court determines that the insults were made publicly or not as French law prohibits public insults toward others because of their origins, race or religion.
Following the allegations Dior fired Galliano after 14 years with the company and denounced his comments. Galliano was previously credited with breathing new life into the company as he managed to imprint his mark on the brand by introducing, with theatrical, often outrageous, runway shows that were among the most-anticipated displays on the Paris fashion calendar.
The designer also went from one of the celebs favourites to a pariah. The incident left the fashion world in shock and while the designer's fall was spectacular French designer Jean Paul Gauthier was one of the very few to openly support Galliano by insisting "Everything he has done has not revealed someone who is racist -- quite to the contrary."
While many people wonder whether he will be able to bounce back professionally, his lawyer claims he is doing all he can to "rebuild himself" He has been spending time at The Meadows, an addiction treatment centre in the Arizona desert and, apparently with friends in the French countryside.
© Copyright IBTimes 2023. All rights reserved.