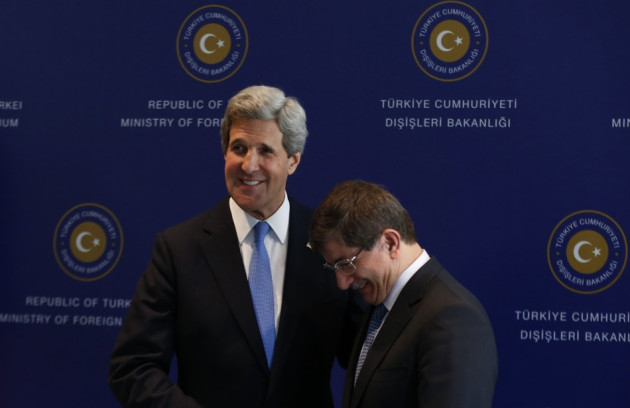 US Secretary of State John Kerry has arrived in Istanbul in the hope of repairing relations between Turkey and Israel, believed to be essential for establishing peace in the region.
He will meet Turkish Prime Minister Recep Tayyip Erdogan and Foreign Minister Ahmet Davutoglu to further efforts, initiated by President Barack Obama last month, to broker a deal between the countries.
Tensions between the states have been high since Israeli soldiers killed nine Turkish aid workers on a ship bound for the West Bank in 2010.
Last month relations thawed when the Israelis apologised for the attack, following discussions involving Obama.
It is believed that the Israelis will also compensate the families of the victims and diplomatic ties will be restored as part of the rapprochement.
The Syrian civil war is also expected to feature in discussions, with Kerry likely to request that Turkey keep its borders open for refugees fleeing the conflict.
According to UN figures, 1.2 million people have left Syria since the conflict began, with approximately 250,000 having crossed the border into Turkey.
Last month it was reported that Turkey deported refugees following clashes with police, a claim Turkey denies.
Though both countries support the removal of Syrian president Bashar al-Assad, the Turkish government wants the US to commit soldiers to help rebel forces.
Kerry will then fly to Israel to discuss the new US backed Arab Peace Initiative, designed to end conflict with Palestine.
The Initiative is predicated on the creation of a sovereign Palestinian state, in exchange for Arab recognition of Israel.
The re-establishment of relations between Israel and Turkey is seen as essential for the deal, with one US source telling the Sunday Times:
"Without Turkey on the table, it was clear that there could be no push for the Arab Peace Initiative. We needed Turkey not just on board but also on side."
Israel has frozen announcements on new settlements in disputed territories ahead of the talks, where Palestinian authority leader Mahmoud Abbas will also be present.
The deal is believed to be similar to that discussed in 2003, in which Israel was to be granted recognition from the Arab states in return for withdrawing from territory occupied in the Six Day War in 1967. The deal collapsed when negotiations stalled and Israeli settlement building resumed.
Kerry will visit the UK and the Far East after the completion of his Middle East visit.