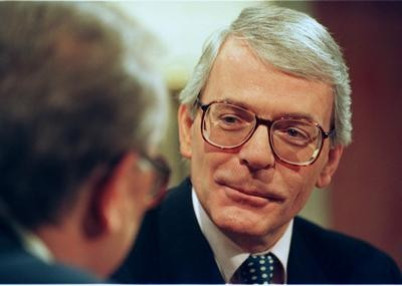 Former Tory Prime Minister Sir John Major has previously refused to become the sort of back seat driver his predecessor Margaret Thatcher turned into, to his huge irritation, when he replaced her in 1990. But something has clearly got under his skin.
For the second time in a month, he has lobbed a grenade into Westminster which has caused considerable collateral damage to his leader, David Cameron.
Three weeks ago, in a speech to political journalists, it was by praising Ed Miliband's focus on the power companies and calling for a windfall tax on energy firms' excess profits.
Now, just as the prime minister was pushing his "aspiration nation" theme with the government's help-to-buy housing scheme, Major broke cover again to lament the dominance of privately educated, affluent middle class people in the "upper echelons of power".
His latest intervention came in a speech to Tory activists on Friday night but was revealed three days later, just as Cameron was hailing the announcement that Halifax and RBS had received 2,384 applications for mortgages under the scheme, which could be worth some £365m to home buyers.
Under the headline: "It's about aspiration", the prime minister wrote in the Sun newspaper: " "Help to Buy is helping those people who I always knew it would, the people I've had front and centre in my mind from the start, responsible people who work hard, put in the hours and can afford a mortgage but can't afford sky-high deposits.......Above all, it's about aspiration. That's why the party of Right to Buy in the Eighties is the party of Help to Buy this decade. "
But Major's intervention blew holes in the aspiration theme by claiming there had been a "collapse in social mobility. He laid much of the blame on the last Labour government but declared: "In every single sphere of British influence, the upper echelons of power in 2013 are held overwhelmingly by the privately educated or the affluent middle class. To me from my background, I find that truly shocking."
It was an echo of his earlier speech in which he also warned that the "silent poor" living in the sort of streets he was brought up in, in Brixton, were being excluded from a society run by the same old elites.
Cameron is already under attack for favouring old Etonians and those from his own narrow, privileged social group, and of being out of touch with exactly the aspiring individuals he professes he wants to help.
More than half the Cabinet, including Cameron, Chancellor George Osborne, and Deputy Prime Minister Nick Clegg, were privately educated and are wealthy. Reports that millionaire Tory MP, Nadhim Zahawi, has admitted making an expenses claim for the electricity used by his horse riding business and a yard manager's mobile home don't help the government's image.
But social mobility is a problem recognised by parties of all colours. The government's own social mobility commissioner, former Labour minister Alan Milburn recently delivered findings underlining the scale of the problem.
What is perplexing many Tories, however, is why on earth the former prime minister has chosen this particular moment to speak out, presumably well aware of the effects his comments would have.
While some believe it is just coincidence and Major's remarks are being given undue prominence, others think he has a genuine bee in his bonnet over social mobility and "his people" - those from modest backgrounds who all too often feel excluded and ignored.
"I remember enough of my past to be outraged on behalf of the people abandoned when social mobility is lost," he said.
For those people, his remarks are seen not as an attack on the Cameron government, but as part of a wider debate about the nature of British society and a warning about failing to tackle inequality. They should be viewed as a helpful contribution.
It is also probably the case that Major felt his previous remarks, in a detailed and weighty speech, had been over shadowed by his off-the-cuff call for a windfall tax on energy firms, so he felt the need to repeat them.
But whatever his motives, the prime minister is bound to be irritated that his own message has been blunted by the sort of back seat driving Major has previously abhorred.