Europe's banking shares and the broader market extended losses Friday after investors were disappointed by the scope of Spain's plans to rescue its financial system and spooked by the surprise $2bn trading loss suffered by JPMorgan.
The STOXX Europe 600 banking sector index, the broadest measure of European financial share price performance, fell 1.8 percent my late-afternoon London time, led by declines in many of Spain's biggest banks after Spain's Economy Minister, Luis de Guindos, limited new cash commitments to the banking sector at €15bn - an amount many analsyts say falls woefull short of solving a financial sector crisis now entering its fourth year. Estimates suggest that as much as €184bn in bad commercial and residential real estate loans sitting in Spanish banks are potentially at risk of default.
Deputy Prime Minister Soraya Sanez de Santamaria said banks must raise thier own captial or face stringent borrowing costs from the government which could be converted into taxpayer ownership. Spain earlier this week convereted a €4.5bn loan to the parent company of Bankia into a 45 percent equity stake that effectively nationalised the country's fourth-largest bank.
Spain's benchmark IBEX 35 index fell 204 points, or 2.9 percent to trade at 6,841.6 following the decsion, the lowest level since at least 2003.
Broader equity markets were also weaker with the FTSE Eurofirst 300 slipping as much as 1.1 percent, before bouncing back to break-end as the session neared a close. The index has fallen more than 2.5 percent in the past week. Major domestic indices around the region we're also trading red Friday as a series of disappointing corporate earnings failed to offset the larger concerns about Spain, Greece and the fate of the Eurozone.
The European single currency rebounded from the lowest levels of the year against the US dollar to trade at around 1.2924 by mid-after London time.
JP Morgan said late Thursday that "grievous, self-inflicted" mistakes in its chief investment office created a $2bn trading loss that could grow larger in subsequent quarters.
Jamie Dimon, JPMorgan's CEO, said last month that media coverage suggesting the risk-management unit was struggling was nothing more than "a tempest in a teapot". Chief Financial Officer Doug Braunstein said at the time that the bank was "very comfortable with the positions we have".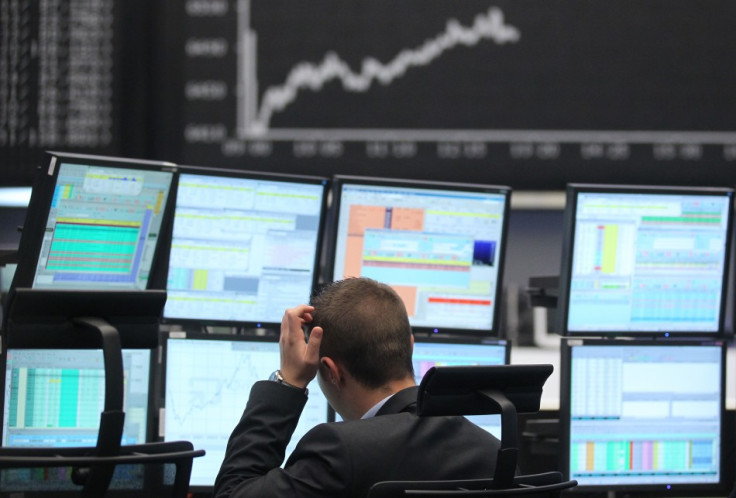 Spain's benchmark 10-year bond yields, an effective gauge of its borrowing costs in international markets, remained firmly fixed about 6 percent in a Friday session that gained pace in the afternoon. The extra yield, or spread, investors demand to hold Spain's bond instead of German bunds is around 455 basis points, a 9 basis point advance from the morning session. A basis point is 0.01 percent. Credit default swaps for Spanish debt hit an all-time high of 521 basis points, according to data provider Markit. This means an investor would need to pay €521,000 each year for five years to insure €10m in Spanish debt from default.
The European Commission said Friday that Spain must take more decisive action to trim its budget deficit closer to EU-agreed targets, including hard-line stances on regional spending and more onerous conditions on its banking sector. In the EC's twice-annual Spring Forecasts, Spain's budget deficit was predicted to grow to 6.4 percent of GDP, a full point higher than the aim of Prime Minister Mariano Rajoy. The EC also said Spain's recession would likely drag into 2013 and beyond if the government wasn't able to make the necessary policy changes.
Collectively, the EC forecast suggested a 0.3 percent contraction for a whole of the 27-member Eurozone this year, rebounding to growth of 1 percent in 2013.
German government bond yields continued to trade near all-time lows as investors fled from risky assets all around the region. Ten-year bunds were priced to yield 1.53 percent while the German Bund future for June delivery set yet another all-time high of 143.07 following the Spanish annoucement and weak economic data from the United States before retreating to 142.63 by the close of play.
Elsewhere in Europe, political leaders in Greece are meeting in Athens in a final push to form a coalition government and to avoid another round of national elections next month. Evangelos Venizelos, whose socialst PASOK party finished third in last week's vote, is the third and final leader permitted to cut a deal and form a government.
If he can't bring in rivals from both left and right, it's very likely Alexis Tsipras and the bailout-rejecting Syriza party will triumph in a new vote, according to recent polls, setting up a potentially fate-changing clash between himself and the leaders of the EU, who say Greece will be thrown out of the single currency union if it fails to honour the austerity pledges tied to its €174bn bailout.
Shares on the main Athens Stock Exchange index fell 4.5 percent to 611.96, the lowest level since at least 1992.