German logistics company DHL has apologised after it was accused of exploiting the crash of Formula One driver Jules Bianchi to gain "likes" on its Facebook page.
Bianchi was involved in a serious accident during the Japanese Grand Prix that resulted in him requiring surgery after suffering a serious head injury.
In extremely wet conditions, Marussia's Bianchi crashed into the back of recovery vehicle removing Adrian Sutil's Sauber, who was involved in an accident on the previous lap.
Following the accident, DHL posted an update on the Formula 1 Backstage by DHL Facebook page informing readers Bianchi was "fighting for his life" after being involved in the "ghastly accident".
It added: "By clicking 'Like' on this occasion, you'll be sending Jules your best wished for a speedy recovery."
The post was widely criticised on social media, with users saying it was a "disgrace" that the company attempted to exploit the accident to boost its Facebook fans.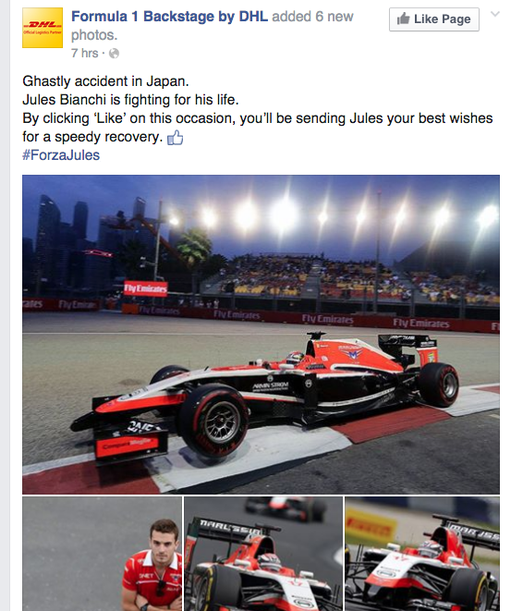 The company has apologised and removed the post. On the same Facebook page the Bianchi message appeared on, DHL said it was never its intention to use the crash to promote the page, but admitted it could have been interpreted as "inappropriate or cynical".
It wrote: "Based on feedback we've received about a post on Sunday [5 October] regarding Jules Bianchi, we have removed the post and would wish to apologise for any offence caused.
"To clarify the matter, we were not asking people to like our page, only the photo, and it was never our aim to promote the site or DHL but was meant simply as a gesture of support for Jules Bianchi, based on our longstanding involvement in the F1 world.
"Taken out of context, we accept that it could be interpreted as inappropriate or cynical, but this was definitely not the intention of our social media team."
Following the crash, Marussia's Formula One team thanked fans for their "huge outpouring of support" for Bianchi and the rest of the team.
A spokesperson added: "With regard to the communication of information concerning Jules' medical condition, we will respect, and be guided by, the wishes of the Bianchi family.
"Together with Jules' care, they will remain our highest priority. Therefore, we would ask for patience and understanding with regard to further medical updates, which will be communicated in conjunction with the Mie General Medical Center in Yokkaichi, where Jules is being treated, when they feel it is appropriate."