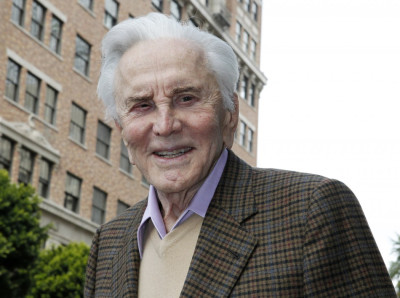 Hollywood legend Kirk Douglas has turned 95.
The famous cleft chinned star, best known for his roles in films Spartacus, Corral and Lust for Life is still on top form despite hitting the minestone age.
The father of actor and director Michael Douglas, was spotted helping the poor and homeless in Los Angeles just days ago, proving that he is still active as ever.
Douglas's story fully embodies the American Dream as the star, who came from an impoverished Jewish background, successfully managed to make his mark on the film industry after obtaining a scholarship at the American Academy Of Dramatic Arts.
He first found fame in 1946 film The Strange Love of Martha Ivers where he starred alongside Barbara Stanwyck and Van Heflin and has since appeared in hundreds of films throughout his career.
In 1991, the Oscar nominated actor was awarded an AFI Life Achievement Award for his contribution to enriching American culture through film and television.
After surviving two plane crashes, a stroke that robbed him of his speech and the death of a child, the acting legend is still fighting fit and looking forard to his first century.
Here we have a look at his life and career in pictures