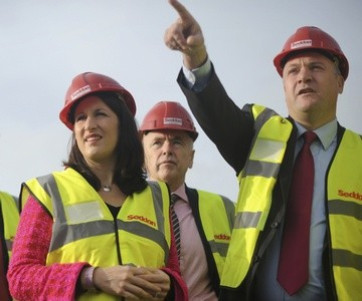 Labour's re-cast shadow cabinet has moved swiftly to sharpen the party's message and map out core policies in the crucial political year before the next general election.
In a series of interviews and statements, key figures in the new top team have attempted to answer some of the central questions that leader Ed Miliband has been accused of failing to tackle.
They suggested that, far from racing to the left as was claimed after his reshuffle, Miliband is eager to prove that in vital areas he is still occupying the centre, or even right-of-centre Blairite ground.
Uncertainty over the future of the government's controversial free schools programme was finally ended by new shadow education secretary Tristram Hunt, who promised Labour would allow existing schools to continue and extend the programme with its own parent-led academies (PLAs).
He insisted that a key difference from the government's schools would be the concentration of PLAs in areas of genuine need, staffing them with properly qualified teachers and creating rigorous financial accountability.
"There are lots of parents out there who want to set up schools. What I am saying is if you want to do that when we are in government we will be on your side. There has been this perception that we would not be, and I want people to be absolutely clear that we are. I am putting rocket boosters on getting behind parents and social entrepreneurs.
"We are not going to go back to the old days of the local authority running all the schools - they will not be in charge," he told the Mail on Sunday.
He also dropped a large hint that he would like to see a return of old-style polytechnics, which were transformed into universities by former Tory premier Margaret Thatcher in the 1980s, to boost vocational training.
Meanwhile, shadow work and pensions secretary Rachel Reeves, a hot tip for future leader, has tackled the thorny issue of Labour's approach to welfare by signalling that a Miliband government would be tougher on those refusing a job than the current government.
"Nobody should be under any illusions that they are going to be able to live a life on benefits under a Labour government. If you can work you should be working, and under our compulsory jobs guarantee if you refuse that job you forgo your benefits," she told the Observer newspaper.
"It is not an either/or question. We would be tougher (than the Conservatives). If they don't take a job they will forfeit their benefit," she said.
Both these ideas have been floated before by the previous shadow ministers, but these latest announcements were far more direct and mark a significant sharpening of the message.
They are the clearest sign that Miliband and his beefed-up communications team are determined to end any public confusion over core policies and offer alternatives that will form the basis of the 2015 election manifesto.
They come on the heels of Miliband's attention-grabbing pledge to freeze energy prices for 20 months if elected.
They also follow the renewed effort by the party leadership to get its core messages across and clear the decks of any impediments by re-casting its communications "hit team" - now stuck with the tongue-in-cheek label "Labour Seals" - with some key appointments..
The development comes as the coalition government also steps up the pace. Chancellor George Osborne's all-important autumn statement, in which he is expected to unveil fresh policies to tackle the cost of living crisis, will be on 4 December.
In an interview on the BBC's Andrew Marr Show, Energy Secretary Ed Davey said he fully expected a major multi-billion pound nuclear energy investment deal to be signed with China "very soon", raising expectations it may come during Osborne's current visit to the country.
Taken together, these developments suggest the pre-election campaign has moved up several gears. The new parliamentary season should be gripping.