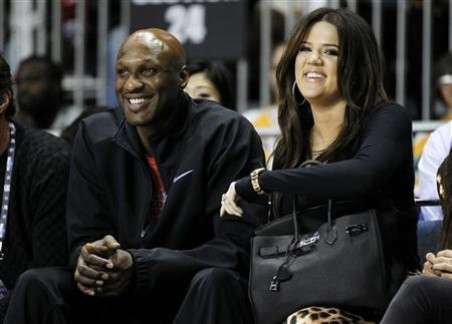 Lamar Odom has been caught on camera going on a dramatic rampage after losing his cool with two photographers.
The 6 ft 10 in basketball player, who is married to reality star Khloe Kardashian, was seen allegedly smashing and vandalising the cars of two paparazzi who he believed were following him.
In the video captured by celebrity site Splash News, the furious 33-year-old athlete is seen rifling through the back of a car belonging to one of the photographers and throwing his camera and equipment into the middle of the street.
He then proceeds to another photographer's car holding what looked like a tripod while the cameraman stood by, and apparently smashes the car.
He finally picks up the equipment and puts it in his own car, while carrying the metal rod.
According to Splash News, Odom had told paparazzi who were tailing him that he wanted to "talk to you man to man" before his outburst.
A police report has yet to be filed.
The rampage comes amid reports Odom has been cheating on Kardashian. The couple was said to be having marital problems after a woman named Jennifer Richardson came forward to claim the athlete had a year-long affair with her.
According to Star magazine Odom met the brunette at the Stadium Club, a strip club in Washington DC, after he played a game for the Dallas Mavericks.
"Lamar and Jennifer ate dinner in an intimate booth together that night, then he took off her shoes and started rubbing her feet," a friend of Richardson told the publication. "The chemistry between them was off the charts!"
Eleven months later, the two are said to have had sex before embarking on an affair that lasted several months. Star even alleges that they had a threesome with one of Richardson's friends.
However, an insider has slammed the allegations as false and told the Daily Mail that Kardashian and Odom are "more in love than ever."