Lance Armstrong has admitted to doping to win each of his seven Tour de France titles in the first half of an interview with Oprah Winfrey.
The International Cycling Union banned Armstrong for life, and stripped him of his seven yellow jerseys after upholding the ruling from the US Anti-doping agency's 1,000-page report, which alleged the American led the most sophisticated doping programme in sporting history.
Armstrong, who has stringently denied allegations of taking performance enhancing drugs during his career, resigned as president of the Livestrong foundation, has been requested to repay prize money and was subsequently dropped from a series of sponsorship deals as his reputation as one of sports' iconic competitors lay in tatters.
But the 41-year-old has now confessed to several aspects of the USADA report, conceding that he doped during all seven of his Tour de France wins.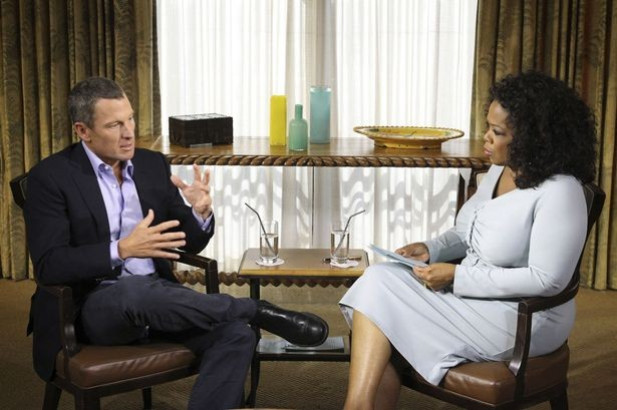 "Earlier in my career there ware cortisone and then there was EPO, which started in the mid-90s," Armstrong said.
"This is too late probably for most people and that's my fault. I view this situation as one big lie which I repeated a number of times.
"While I went through this process I know the truth, the truth isn't what I said and now it's gone this story was so perfect for so long and I mean that as I try to take this out.
"You get over the disease, you win the Tour de France seven times, you're married and have kids and it was hard to keep up that image.
"I didn't invent the culture but I didn't stop the culture and the sport is paying the price for that. I didn't have access to anything anyone else didn't.
"It was definitely professional and it was definitely smart but it was very conservative, very risk adverse, very aware of what matters. To say that the program was bigger than the east-German program in the 80s is not true."
Armstrong, who has also been stripped of his Olympic time trial bronze medal from the Sydney 2000 Games, defended the role of Dr Michele Ferrari in the doping scandal.
In July, Ferrari was handed a lifetime ban from cycling for his role in the administration and trafficking of prohibited substances by the USADA, but Armstrong submitted evidence under oath defending him.
"There are people in this story and we've all made mistakes [but] there are people in this story who are not monsters, they are not monsters," Armstrong said. "I viewed Michele Ferrari as a good man, and a smart man, and I still do."
In 2001, the USADA report alleges that Armstrong made a payment of $100,000 to assist in covering up a failed drugs test during the Tour of Switzerland, something confirmed by the anti-doping agency's chief Travis Tygart.
But Armstrong said: "It was not in exchange for a cover-up. They called, they didn't have a lot of money, they said would you like to make a donation? The only thing it could be from is the Tour of Switzerland.
"There was no positive test, there was no paying off of the lab, there was no secret meeting with the lab director.
"That story isn't true. The UCI did not make that go away. I'm no fan of the UCI.
"I never failed a test. Stuff was retroactively [retrospectively] tested - I failed those. But the hundreds I took, I passed them because there was nothing in the system."
Allegations made by fellow US Postal Service rider Tyler Hamilton alleged that Armstrong's teammates were bullied into doping and could be ejected from the team should they not comply with the doping program.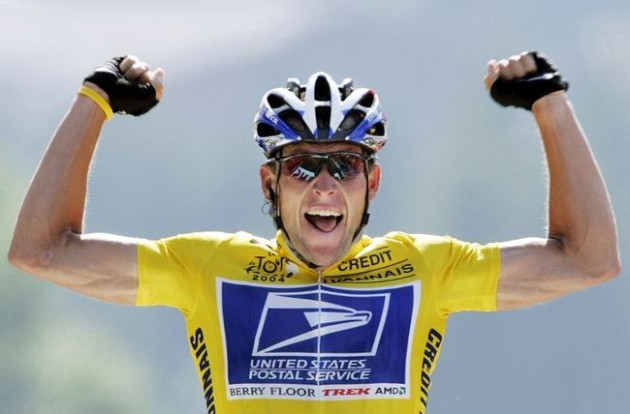 However, Armstrong has denied taking such a step, despite conceding he played the role of bully in the team.
"I was a bully in the sense I tried to control the narrative and if I didn't like what people said, I tried to control that," he said. "It was truly 'win at all costs', when I was diagnosed I said I'd do whatever it takes to survive.
"Trying to perpetuate the story and hide the truth because I can't control the outgoing. Winning seven tours, I knew, I knew I was going to win.
"I didn't understand the magnitude of that following and this is why it is. I am beginning to understand it, and not because I see video clips but because I see anger and disappointment.
Of Betsy Andreu, wife of former team-mate Frankie who alleged she had overheard Armstrong tell doctors he had used performance enhacing drugs and was subsequently criticised publically by him, and Emma O'Rilley, a former masseuse who also made allagetions against the rider, Armstrong admits he will spend the rest of his life attempting to apologise.
"[Emma] She's one of these people who got run over. Who got bullied," he said.
"I will spend rest of my life to try and earn back [people's] trust."
The whistle-blower Floyd Landis, who admitted to doping in winning the Tour de France and was subsequently banned, opened the door to the current allegations and Armstrong admits his return in 2009 led to him being caught.
"My comeback didn't sit well with Floyd," he admitted. "I was in a hotel room (upon hearing Landis would reveal details of Armstrong's doping).
"Floyd was sending text messages about his interview. I finally said 'do what you have to do'. He went to the Wall Street Journal with the story. Up to that point I supported him."
Of the 11 witnesses who gave evidence to USADA, Armstrong says George Hincapie is the most credible of the group, claiming there was no way back for him upon learning his American teammate had given evidence.
"My fate was sealed by [George]," he added. "If George didn't say it then people would say 'I'm sticking with Lance'.
"George is most credible voice in all of this. We're still great friends. I don't fault George. George knows this story better than anybody."
Upon upholding the USADA ruling, the UCI pledged to set up an independent commission to make a full probe into the Armstrong affair, however the cycling govenring body and the World Anti-doping Agency have failed to agree terms on a 'truth and reconciliation' process.
Armstrong is willing to assist on such terms: "I love cycling and I say that knowing that people see me as someone who disrespected the sport, the colour yellow.
"If we can, and I stand on no moral platform here, if there was a truth and reconciliation commission, and I can't call for that, if they have it and I'm invited I'll be first man through the door."
The second half of Armstrong's interview with Oprah will be screened on Saturday, 19 January.