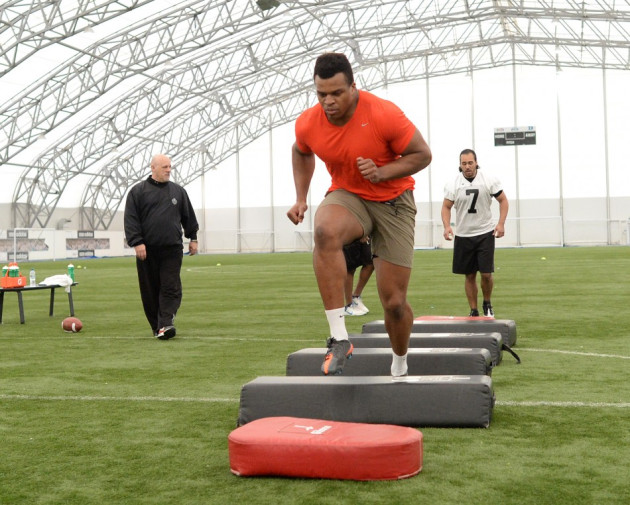 When Lawrence Okoye finished 12th in the discus final at the London Olympics there was no real fanfare, just appreciation of the fact the then 20-year-old had even managed to qualify for the Games less than two years after dedicating himself to the sport. With most discus throwers not reaching their peak until their last 20s or early 30s, it seemed he would have a decade in which to hone his skills.
Yet as we meet the physically intimidating Okoye in his hometown of London, it is not to discuss his future in track and field, rather to find out about a new career path that his seen him travel from Croydon to Atlanta in order to try his hand at American Football.
Having originally travelled to America in order to complete some warm weather training Okoye made the decision to attend the Regional Combine, an event in which NFL scouts try to identify future talent. Having excelled in Atlanta his next stop was the Super Regionals in Dallas where he caught the eye of Cowboy's chief talent scout Gil Brandt.
"Of all the guys there, he seemed to be the class of the defensive linesman," claimed Brandt who has worked with the franchise for more than three decades. Perhaps we should not be surprised that Okoye stood out amongst 200 other hopefuls. While there may have been some that could match his 6ft 6" and over 300lb frame, few could boast the ability to run the 100metres in less than 11 seconds.
He sent scout's tongues wagging when he ran the 40-yard dash in just 4.78sec, reached 35in with his vertical leap and achieved 10ft 5"in the standing long jump. After the succession of drills he was approached by representatives from 15 different teams so was he surprised that there was so much interest?
"I think I made it clear with my numbers and my performances during drills that there is potential there and teams were realising that," says Okoye. "But there is no replacement for playing the game and I am trying to play catch up all the time. The teams that have spoken to me know this and they know that they have to do some work themselves to get the dividends. It is clear that work has to be done on both sides but it is encouraging and I just have to make sure that when I get to the right team I do the work."
Okoye has always shown the mental capacity to quickly adapt and learn new skills. Having originally excelled playing rugby at the academies of Wasps and London Irish, he threw a British discus record of 67.63m less than a year after taking up the sport.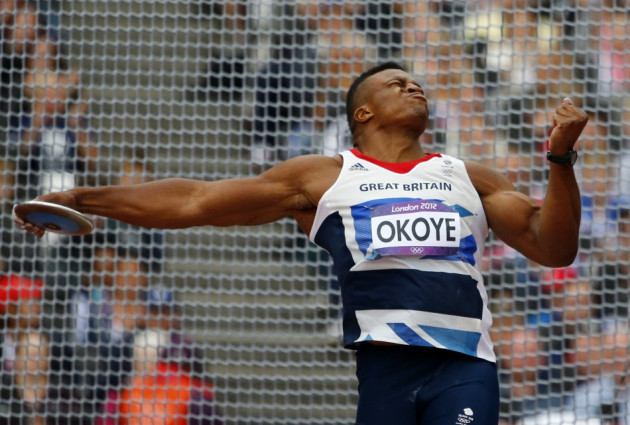 However, trying to compete with young, hungry athletes who have played American Football throughout high school and college puts Okoye at a huge disadvantage. He may have the physical attributes to excel during drills and tests, but learning the intricacies of the game will be a completely new challenge - one that the 21-year-old is looking forward to overcoming.
"The most important thing is that I study the game as much as possible and that I pick up tips on a day-to-day basis with world class coaches that I'll be exposed to," Okoye calmly explains. "If I can take on that knowledge, then the sky's the limit.
"I will be pushed further out of my comfort zone every session I attend so it will be tough, but it's very clear that it's not a physical thing for me because I have the physical tools. But it's a lot of mental toughness to get the work done."
From Thursday April 25 to Saturday April 27 the NFL draft will take place at Radio City Music Hall in New York. Last year some 2000 men were considered but only 87 signed professional contracts and just 28 were named on the opening day roster. Okoye will hope to be one of the lucky few chosen but he has no intention of simply being part of a squad, he is out for success.
"I want to be one of the dominant players in the league. That would count as success," says Okoye, and there are few reasons to doubt him. "I'm not abandoning a potentially very successful discuss career just to be a nobody in the league. I'm the kind of guy who wants to do well in everything I do and I feel like I have the tools to get it done in the league.
"In 2010 when I started throwing the discus, no-one would have thought that I would have made it to the level I achieved in just two years, so I'm looking to do something similar."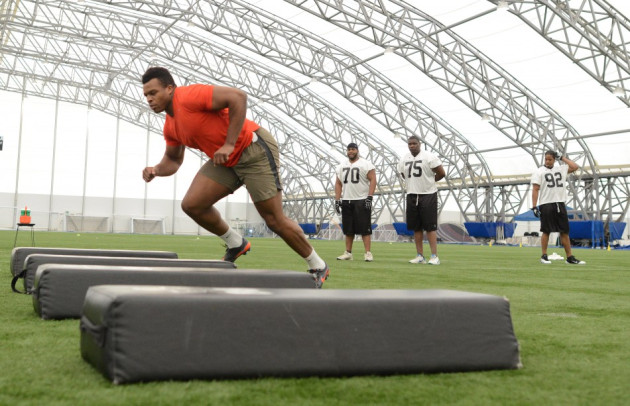 Some will question Okoye's motivation for moving into the sport but this is a young man used to making tough decisions. Having gained a place at Oxford University to study law he chose to defer and instead concentrate on a career within sport. While his father may have played some American Football at college in Nebraska, he did not convince his son to try out for the sport; this is the 21-year-old's choice.
"It was something that I'd had in the back of my mind for a long time so I decided to go for it, because I felt if I didn't do it now, then I never would," declares the strong minded Okoye. " It's something that I want to prove to myself more than anything, I've had whispers in my ear for a long time that I should consider doing this and I finally decided I should give it a go.
"Every decision I've ever made has been made on my own, but I do have people that help guide me and I've had great mentors in my short sporting career. I'm in a really fortunate position so I just need to make sure I take the opportunity and don't look back."
Come April 28 we will have an idea whether Okoye's ambitions can be matched. If he claims a place in the draft then there is no reason why he cannot fulfil his desire to be one of the most dominant players in the league. The rest of the NFL, you have been warned.