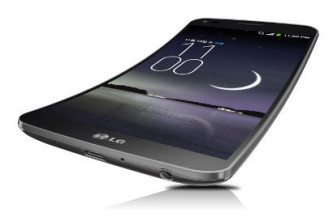 The LG G Flex, with its curved display, will be launching in the US during the first quarter of 2014, following a February arrival in the UK.
During its press conference at the CES technology trade show in Las Vegas, LG said the curved Android smartphone will be available on Sprint, AT&T and T-Mobile. Verizon is, for now, missing from the list of US carriers offering the phone.
In the UK, mobile network EE had previously announced the 6in G Flex will go on sale next month, having been showcased at select stores from 20 December, giving potential customers a chance to experience the phone's curved screen.
LG said the curved phone will also arrive in India "soon", joining South Korea, Hong Kong and Singapore, where it is already on sale.
The South Korean technology company also used its keynote to announce its arrival to the wearable tech market with the LifeBand Touch. Combining a fitness tracker and smartwatch in one, the LifeBand Touch offers many features similar to the Nike Fuelband and Fitbit Flex.
Launching soon after the curved Samsung Galaxy Round, LG's phone curves from top to bottom when held conventionally, whereas the Samsung is curved from left to right.
LG is using flexible OLED technology to create what it called the "world's first 'real' curved smartphone."
As well as the distinctive 6in curved screen, the G Flex also comes with a unique rear cover which LG claims can heal itself, akin to Wolverine in X-men. The "self-healing" technology is a protective skin applied to the rear of the phone to repair scratches on the phone within minutes of them appearing.
Also on the rear are the home and volume buttons, a move mirroring the positioning on the company's flagship G2 smartphone.
In terms of specs, the G Flex sounds pretty impressing. The phone is powered by a 2.26GHz quad-core Snapdragon 800 chip from Qualcomm which is paired with 2GB of RAM. However unlike the G2, the screen is not Full HD resolution at 720p.
There is a 13 megapixel camera on the rear and the phone should have decent battery life thanks to the 3,500mAh battery included.