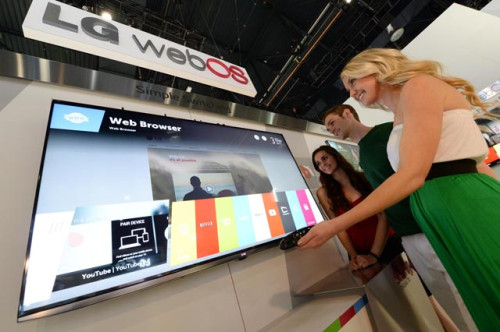 LG is not a company to shy away from making bombast statements. It's CTO Skott Ahn boldly claimed that it had "revolutionised" how people would interact with smart TVs with the new webOS platform a "quantum leap forward" in our viewing experience.
Hyperbole aside, the re-emergence of webOS as a smart TV platform is one of the more interesting developments at CES 2014.
Originally developed at Palm as a successor to the Palm OS mobile operating system, the Linux-based webOS was launched in 2009 and powered a range of the company's smartphones including the Pre and Pixi ranges.
Palm was acquired by HP in 2010 and with it went webOS. The OS found a new home on HP's ill-fated TouchPad tablet, which launched in July 2011, but just a month later saw its price slashed to just $99 as the project was dumped by the PC maker.
HP spoke about selling webOS in the following months, but it held onto the software and in February 2013 the company announced that LG was licensing the software for use in its smart TVs.
105in Curved Ultra HD television
At CES on Monday, the company announced that 70% of all its smart TVs would ship in 2014 with webOS, including all its new Ultra HD (UHD) models such as the 77in and 105in curved UHD televisions.
LG believes that webOS will simplify the smart TV experience, something most people claim is currently too complicated - despite 160 million people owning one around the world.
"We believe in the possibility of webOs to give the most intuitive user experience," Ahn said during the press conference.
The new interface is dominated by a colourful launcher running along the bottom part of the screen, via which you can switch between live TV, smart TV content (such as apps like YouTube and Netflix) and media stored on external drives.
LG BirdBean
The launcher, called Live Menu, can be called up at any point, without the need to go back to a home page, meaning you can continue to watch live television while searching for something online.
LG has even created a character - called BirdBean - to help users navigate set up the TV initially, in a similar way that Clippy helped users of Microsoft Office.
While UHD televisions have taken off in 2013, the amount of content available in native 4K resolution is very limited, but during the LG press conference Reed Hastings, CEO of Netflix, announced that Season 2 of House of Cards would be streamed in native 4K via the Netflix app on LG televisions - as well as other platforms.