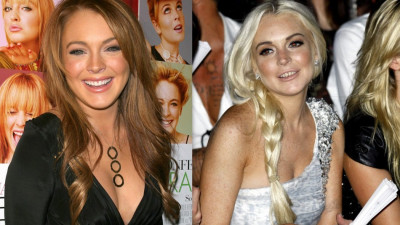 American actress, Linday Lohan, who started her career as a child model, is still a "beautiful actress", insisted her spokesperson.
However, Lohan's recent photographs seem to contradict that statement. In a RadarOnline report, a close-up of the 25-year-old's teeth (the photograph was taken at the THQ launch party in Los Angeles) seemed to show they were stained brown and almost rotting - a far cry from the million-dollar-smile she used to have.
The spokesperson refused to offer an explanation for her poor dental health, reported the Daily Mail.
"She's been on the cover of Vanity Fair and the top beauty and fashion magazines. She's a beautiful and glamorous actress," Lindsay's representative Steve Honig told People magazine.
"With everything going on - from deteriorating public education to rampant homelessness to international unrest - there is no way I'm going to comment on Lindsay's teeth," added an irritated Honig.
Not so long ago, it was Lohan's ground-breaking fashion choices and good looks that caught everyone's attention. Now, however, any attention that comes her way seems to be bad news. As of now, Lohan is busy completing 460 hours of community service as part of her probation requirements, as a consequence of the theft of a $2,500 necklace from an L.A. boutique.
"I am not to be made an example of anymore. If I travel, it's for work and it's been approved. As is anything I do when I leave the state. I'd appreciate it if people will just let me do what is asked of me, so that I can get my life back," said Lohan, in a statement given as response to criticisms against her.
Start the slide-show to look at the transition of Lohan, from an outstandingly pretty actress to her decaying teeth.